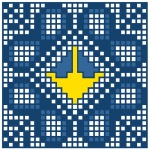 Special Ukraine Tours
Kiev Tours | Tour Guide


Ukraine Tours with Tour Guide for 105 Percent Satisfaction!
Kyiv Tour Guide | +38 050 936 96 80 |
contact@ukraine-kiev-tour.com
PayPal friendly!
Ukraine Tour | Tour "Ukraine Expedition"
Itinerary, Sights, Attractions and Map
Individual and group tours to Ukraine with Ukrainian local guide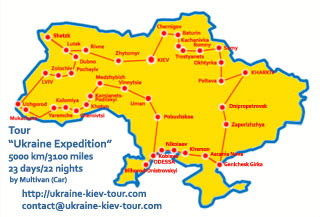 Ukraine Tour "Ukraine Expedition" is for active tourists who want to see all most interesting sights of Ukraine. You spend 23 days / 22 nights in high rhythm of Ukrainian life and culture. You travel around Ukraine over 5000 km / 3100 miles by comfortable transportation and enjoy Ukrainian food, wine and people on the way. We try the best you have Perfect Travel Memories about Ukraine and Ukrainian people. You are welcome to Ukraine!
Tour "Ukraine Expedition" Itinerary

Day 1

Meeting at the KBP airport and transfer to hotel. Walking tour of Sights in Kiev: St. Vladimir's Cathedral, Golden Gates, Hedgehog in the Fog monument, Saint Sophia Cathedral, Cathedral of Archangel Michael, Andrew's Descent (Andriivskyi Descent), Fountain of Samson, Church of Our Lady Pirogoshchaya, Church of St. Nicholas on the Dnieper, Kiev Funicular, Vladimir mount and monument, European Square, Maidan Nezalezhnosti, Kreschatik street, Besarabka Market. Free time or transfer to hotel.

Day 2

Transfer to city cente of Kiev. Walking tour of Sights in Kiev: House With Chimeras (Gorodetsky House), National Bank of Ukraine, People's Friendship Arch, Museum of Water, Bridge of Love, Mariinsky Palace (outside view - is currently being restored), Park of Fame, The Museum of the Second World War, Mother Motherland Monument, Kiev Pechersk Lavra (Kievo-Pecherskaya Lavra), Botanic garden, Vydubychi Monastery (Vydubytskyi monastyr). Free time or transfer to hotel.


Mother Motherland Monument

Day 3

Transfer to Zhytomyr. S.P.Korolyov Museum of Cosmonautics (One of the most valuable exhibits is a capsule with the lunar soil), Nature Monument - Rock "Chatsky head", Transfiguration Cathedral, St. Michael's Cathedral. Transfer to Rivne. In Rivne: Rivne brewery and Resurrection Cathedral. In spring, summer, autumn and winter visiting Romantic Tunnel of Love. Transfer to Lutsk. Free time. Night in hotel.


Tunnel of Love


Sergei Korolev Space Museum

Day 4

Transfer from Lutsk to Shatsky National Park with visiting of Svitiaz Lake. Bicycle ride around Shatsky Lakes. Optional activities: yacht sailing or tour by Soviet jeep around the lakes. Transfer to Lutsk. Free time. Night in hotel.


Shatsky Lakes | Svitiaz Lake

Day 5

Tour of Lutsk Lubart's Castle, Czartoryski Tower, Church of Saints Peter and Paul, Lutsk "House with Chimeras" (House of Sculptor Nikolai Golovan) . Transfer to Dubno. Dubno Castle. Next to Holy Dormition Pochayiv Lavra. Transfer to Zolochiv. Visit Zolochiv Castle, Pidhirtsi Castle, Olesko Castle. Transfer in Lviv. For additional fee - tickets to Opera House. Free time. Night in hotel.


Pochayiv Lavra Monastery


Lubart's Castle

Day 6

Walking tour of Lviv Sights: Market Square, Opera House, Latin Cathedral, Dominican Church, St. George's Cathedral, Armenian Cathedral, mountain High Castle, Town Arsenal, Kornyakt's House with an Italian courtyard, Assumption (Volozhskaya) church, Bernardine Monastery, Chapel of Boim, Potocki Palace, Black Kamenica, Powder Tower, Stryj park, Mickiewicz Monument, Pharmacy Museum. Afternoon visit Museum of Beer in the cellars of the brewery in Lviv. Night in hotel.

Day 7

Transfer to Mukachevo. On the way visit Shonborn castle. Sights of Mukachevo: Palanok Castle, Town hall. Transfer to Uzhgorod. On the way visit Serednie Bodegas and wine tasting (optional activity). Sight of Uzhgorod: Uzhgorod castle, Holy Cross Cathedral, Church of St. George, Korzo street, Linden (Sakura) alley. Night in hotel.


Schönborn Palace Castle


Palanok Castle

Day 8

Transfer to Kosino Thermal Resort for thermal bath of healing mineral water. Next visit Chizay Wine Tasting Room of 11 type of wines and famous wine "Troyanda Carpathians " (optional activity). Sight of Berehove: City Court and Berehove Museum. Transfer to Valley of Daffodils in Hust (in spring time). Sights in Hust: Selishche Cheese factory (optional activity), Center of Withe Weaving and Deer Farm. Transfer to Synevyr Polyana with visiting of beautiful Synevyr Lake. Night in hotel.


Synevyr Lake

Day 9

Transfer to Carpathian Biospere Reserve with visit of Primeval Beech Forests of Carpathians (UNESCO World Heritage) and walking unique Karst Bridge Track. Way on beautiful road on banks of Tisza river to Yaremche. On the way visiting Monument Geographical Center of Europe, Tserkva of Our Lord's Ascension (UNESCO World Heritage) in Yasynia,  Museum of Hutsul Carving of Yuri Pavlovich in Rakhiv. Sight of Yaremche: Probii Waterfall. Night in hotel.


Probiy Waterfall

Day 10

Transfer to Kolomyia. Sights in Kolomia: Pysanka Museum. Transfer to Chernivzi. Sights in Chernivzi: Chernivtsi University (Metropolitan Residence), Nicholas Cathedral (Drunk Church), Turkish Krynica square, Exaltation church. Transfer to Khotyn. Sights of Khotyn: Khotyn Castle and Church of Alexander Nevsky. Transfer to Kamianets-Podilskyi. Night in hotel.

Day 11

Sights of Kamianets-Podilskyi: Kamianets-Podilskyi Castle, Tower of Stefan Batory, Dominican monastery, St. Peter and Paul Cathedral, Town Hall, Polish Gate, Trinitarsky church. Transfer to Medzhybizh. On the way visiting Intercession Church-Castle. Sights in Medzhybizh: Medzhybizh castle, Trinity Church (ruins). Transfer to Letichev: Letichev Castle (Dominican Convent) and Karmelyuk tower. Transfer to Vinnytsia. Sights in Vinnytsia: Private collection of weapon of Second World War, Wehrwolf (ruins), Water tower. Unique night show of Light and Music Fountain Roshen - Europe's largest floating fountain. Night in hotel.


Kamianets-Podilskyi Castle


Medzhybizh Castle

Day 12

Transfer to Uman. On the way visiting of Museum of Aviation Pioneer Alexander Mozhaysky in Voronovitsa. Walking tour in beautiful Sofiyivka Park. Day of Rest. Night in hotel.


Park Sofiyivka

Day 13

Transfer to Pobuzke. Transfer to Pobuzke. Visiting of Strategic Missile Forces museum as military heritage of USSR. Transfer to Odessa. Evening walking tour around Odessa. Optional opportunity to visit the opera in Odessa Opera House. Night in hotel.

Day 14

Walking tour of sights in Odessa: Opera House, Deribasovskaya Street, Primorsky Boulevard, Monument to Duke de Richelieu, Passage Hotel, Archaeological Museum, Panteleimon Monastery (Athos yard), Odessa sea port, Home with Atlanteans, Vorontsov Palace, "Privoz" market, City Council, Trinity Cathedral, Flat house, Transfiguration Cathedral, Teschin bridge (Mother-in-law bridge), Shah Palace, New Market (Philharmonic), Odessa factory of sparkling wines (optional activity), Monument to Orange, funicular, Darth Vader Monument. Night in hotel.


One Wall House


Odessa Opera and Ballet Theater

Day 15

Transfer to Bilhorod-Dnistrovskyi. Visit Bilhorod-Dnistrovskyi Castle (Akkerman fortress) and ancient Greek city of Tyre. On your wish swimming in the underground John Suchavsky Church. Transfer to Odessa. Arcadia walk and on your wish swimming in Black Sea or scuba diving tour to Underwater Museum of USSR Leaders (optional activity). Night in hotel.


Bilhorod-Dnistrovskyi Castle


Underwater Museum of USSR Leaders

Day 16

Transfer to Nikolaev. On the way visiting of Robot KB-1 TIS in Port Yuzhny. Nikolaev Sights: Cathedral of Our Lady of Kasperovska, Flotskiy Avenue, Ukrainian Disneyland - The Playground "Fairy Tale", Church of St. Joseph, Shukhov Tower (Tesla Tower). Transfer to Kherson. Kherson Sights: St. Catherine's Cathedral, Frigate (Monument Shipyard), Greek Sophia Church, Potemkin monument, Fountain "Dandelion", Dnieper (Dnipro) embankment. Transfer to Ascania Nova Biosphere Reserves. Night in hotel.


Robot KB-1 TIS

Day 17

Ascania Nova Biosphere Reserves Botanic Park. Optional tours on your decision: Protected steppe, Zoo, Chapelsky Pod area. Transfer to Genichesk Girka: Swimming in the baths "Arabatskaya arrow" on the basis of source of natural mineral water from the well depth of 1600 meters. Transfer to Zaporizhzhya. Night in hotel.


Zoo, Arboretum, Wild Steppes


Hydropathic (Balneary, Spa)

Day 18

Sights of Zaporizhzhya: Khortytsya Island, DnieproGES, Museum of Zaporizhzhya Cossacks, Zaporizhzhya Cossacks Equestrian Theatre (optional activity, show is possible depends on number of people in the tourist group), Museum of Weapons, Zaporizhzhya Oak, Antiqu-Car Museum, Lenin Avenue, Motorsich Museum of  Aircraft and Helicopter Engines, St. Andrew's Cathedral, Seagull Ship Museum (Museum of the Dnieper flotilla). You can jump on the rope from Iron Bridge (optional activity). Zaporizhzhya Helicopter Tour (optional activity). Transfer to Dnipropetrovsk. Night in hotel.

Day 19

Sights in Dnipropetrovsk: Monastic Island, Transfiguration Cathedral, Marx Prospect, Trinity Cathedral, Bryansk (Nicholas) Church, Dnipropetrovsk embankment, Ekaterynoslavsk (European) boulevard, Globa Park, unique Family Bench. Transfer to Novomoskovsk. Sights of Novomoskovsk: Trinity Cathedral, Samara Monastery and Salty Estuary. Transfer to Kharkiv. On the way optional Kharkiv Helicopter Tour. Night in hotel.


Museum Missiles Park


Family Bench

Day 20

Sights of Kharkiv: Pokrovsky monastery, Assumption Cathedral, Gosprom, "Mirror Stream" fountain, Trekhsvyatitelskaya (Golbergovskaya) Church, Annunciation Cathedral, Freedom Square (the largest square in Europe), Cableway, Cascade Fountain, Ozeryanskaya church, Architects Area, Sculptures Garden and Museum of Art. Transfer to Poltava. Night in hotel.


Gosprom (Derzhprom)


Annunciation Cathedral

Day 21

Sights of Poltava: Museum of Long-Range and Strategic Aviation (Tu-160, Tu-95MS, Tu-22M3, Tu-22K, Tu-16, Tu-134UBL), Holy Cross Monastery, Round Square (Hull garden), Ivanova Gora, Assumption Cathedral, Monument to Dumplings, Temple of Sampson Strannopriimets. Transfer to Okhtyrka. Sights in Okhtyrka: Church of Archangel Michael, Pokrovsky Cathedral, Transfiguration Church, Church of St. George. Transfer to Trostyanets. Sigts in Trostyanets: Round Yard and Ascension Church. Transfer to Sumy. Sights of Sumy: Transfiguration Cathedral, Holy Resurrection Cathedral, Trinity Cathedral, Fountain-Monument to the Bag, Annunciation Cathedral, Sugar Monument, Monument to Sweet Tooth. Night in hotel.


Round Yard

Day 22

Transfer to Romny. Sights in Romny: Church of Ascension, Church of the Holy Spirit, Vasilyevskaya church. In Romny visiting the golden Pig statue. Transfer to Konotop. On the way visiting Sugar Factory in Parafievka, Tarnowski Palace and park in Kachanivka, Trostyanets arboretum, Galagany Palace in Sokirintsy and Church of Assumption in Silchenkovo. On Konotop visit of Helicopter Museum (Mi-22 / Mi-6Aya, Mi-24, Mi-2, Mi-8, Mi-1). Next transfer to Baturin to visit sights: Razumovsky Palace, Baturyn Citadel Fortress, Kochubey House, Resurrection Church, Intercession Church, Museum of Archaeology. Night in hotel.


Kirill Razumovsky Palace


Citadel of Baturin Fortress

Day 23

Transfer to Chernigov. On the way visiting St. George's Church and Lyzogub homestead in Sednev and Church of Assumption in Voloskovtsy. Sights in Chernigov: Trinity Cathedral, Ilyinsky Monastery (Anthony Cave), Transfiguration Cathedral, Detinets (Shaft), Yeletsky Uspensky monastery, St. Catherine Church, Chernigov collegium, Glebov homestead. On the way visiting Church of Nativity of Mother of God in Kozelets.Transfer to Kiev. This day or next day transfer to Kiev Boryspil International Airport.


Chernihiv Railway Station

Optional activities after tour "Ukraine Expedition"

Day 25

Day tour to Pirogovo Open Air Museum and Feofaniya Park

Total cost of tour "Ukraine Expedition". Terms and conditions

Minimum number of tourists - 2 persons.

Cost: On request

The tour itinerary could be change during the tour depends on situation and weather conditions.

Total cost includes:

all transfers to/from airport KBP or airport Kyiv
support for English-speaking guide and interpreter during the entire tour
all transfers on the route of the trip in car (2 persons) or minivan, multivan (more than 2 persons)
all hotels on the route according to the Itinerary
Bed and Breakfast (BB)
entry tickets to museums or other sights

Total cost not includes:

flight tickets to/from Kiev
insurance (could be purchase in Kiev before the tour)
optional activities on the tour route
souvenirs and personal expenses

lunches and dinners
| | | |
| --- | --- | --- |
| | - please, look at reviews of tourists about our tours | © 2011 - 2022 All rights reserved |