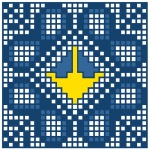 Special Ukraine Tours
Kyiv Tours | Tour Guide


Ukraine Tours with Tour Guide for 105 Percent Satisfaction!

Kyiv Tour Guide | +38 050 936 96 80 |
contact@ukraine-kiev-tour.com
Ukraine Pobuzke Sights | Museum of Strategic Missile Forces
Individual and group tours to Pobuzke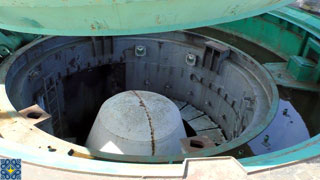 Museum of Strategic Missile Forces is unique museum in the World which allows you to visit top-secret Soviet Union facilities related to nuclear missiles of mass destruction - all equipment, surface and underground facilities are fully preserved in the same condition in which they were at a secret facility during the alert.
Special Offer!
Missile Museum Helicopter Tour from Kyiv by Robinson R44 - just 1.5 hours one way!
Missile Forces Museum Private Tour by Car or Van - check information below!
Booking of Missile Museum Tour with lunch from Kyiv:
+38 050 936 9680 (WhatsApp, Viber, Telegram) or contact@ukraine-kiev-tour.com
Ukraine Missile Museum Helicopter Tour | Video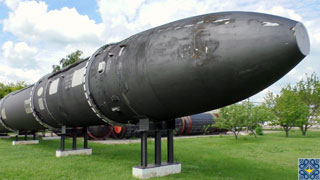 In Pervomaisk was headquarter of Strategic Missile Forces USSR and around the city were carefully concealed deep underground command posts and mines with the most modern nuclear missiles.
At the end of the twentieth century when Ukraine announced the elimination of nuclear weapons on its territory Pervomaisk and Pobuzke became the center of the destruction of a dangerous weapon. One of the command posts converted into the museum.
Museum of Strategic Missile Forces includes a unified command post, silo-based missile launcher, ground facilities providing combat duty.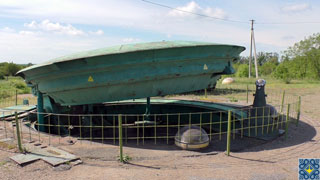 Unified Command Post (UCP) - structurally it is a metal container length of 33 meters, 3,3 meters in diameter and weighing 125 tons suspended by a system of depreciation in the standard missile mine.
Each level - a round room in which the apparatus and equipment perform specialized functions reliably in all conditions of the environment:
1st and 2nd levels - equipped with diesel generators
3rd - communication equipment
4th - automatic control system and control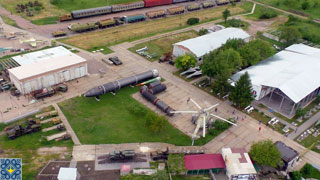 5th - communication equipment
6th, 7th and 8th - electrical equipment to ensure all facilities
9th and 10th - the equipment for the combat missile launch
11th - the command post with combat outposts, remote control, monitoring and communication
12th level is the living room
The Unified Command Post (UCP) of the regiment had the ten missiles silo launchers which were at a distance of 8-10 km from each other. Unified Command Post was able to withstand a direct hit by a nuclear warhead. Only two officers were on duty at the command post and in terms of a real threat of war - three.
Technical excellence ensures livelihoods personnel and combat missions to launch missiles under all conditions. There is even an autonomous mode of operation in case of failure of external power supply.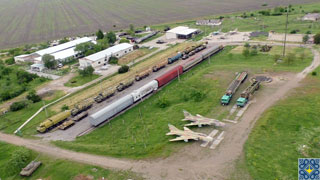 People could stay underground for a long time - it was a command post with the storage of food, and special equipment needed in emergency situations. The levels of UCP are connected by ladders.
Descent to the Unified Command Post is done by small elevator down to the 11th level. Here at a depth of 30 meters you can test yourself as the operator of 10 nuclear missile launch.
All the equipment is operated in a mode of imitation of the real launch of strategic missiles - even with the receipt of the acknowledgment from a nuclear suitcase of USSR president. By guide instruction you press the button and turn the key and ... in 40 seconds all ten nuclear missiles launched to destroy targets.
The impression is incredible!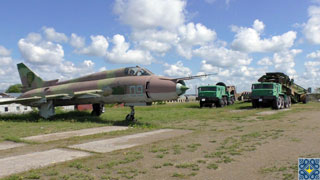 Silo-launcher (SL) - highly secure fortification which consists of reinforced concrete hermetic cylinder with the equipment which provide continued support for missiles in the ready state and 120-ton protective cover necessary to protect the missile from the damaging effects of nuclear weapons. This silo-launcher is for three-stage missile RS-22 (on the classification of NATO - SS-24 "Scalpel") whose starting weight was 104,8 tonnes and a maximum firing range of over 10 000 km.
In combat mode the protective cover of silo-launcher (120 tons!) rising up 6-8 seconds.
One interesting exhibits is a sample of missile R-36M (15A18M) according to the classification of NATO - missile SS-18 Satan in full size.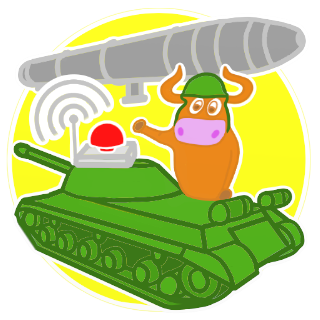 Its characteristics are: maximum starting weight - 211,4 tons, length - 34,3 meters, diameter - 3.0 meters, weight of the warhead - 8730 kg, the maximum range - 15000 km, shooting accuracy - 0.5 km.
Warhead may contain 10 multiple warheads with an explosive 750 kilotons of TNT each. The missile is equipped with the means to overcome missile defense.
To view the museum visitors are offered a video demonstration launches of strategic missiles, as well as a description of different types of launchers - silo-based, based on the train and on the basis of the truck-tractor.
Documentaries taken on the basis of test launches of strategic missiles to hit targets on the training grounds.
Very interesting and emotional tour!
Strategic Missile Forces Museum and Sofiyivka Park Tour | Video
Ukraine Missile Museum Tour from Kyiv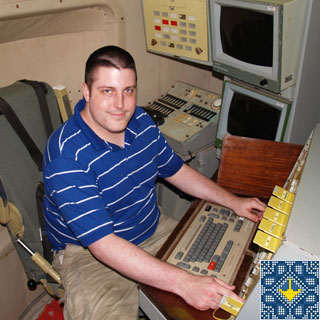 Itinerary
From hotel in Kyiv transfer to Pobuzke.
Visiting of Strategic Missile Forces Museum as military heritage of the USSR with descent to the depth of 45 meters of Levels 11 and 12 of Unified Command Post (UCP). Two hours tour around the museum with English speaking guide.
Lunch including: borsch, fried eggs with bacon, salad and a drink to choose from.
Optional tour in Park of Love - Sofiyivka Park in case a lady in a couple or in the group.
Transfer back to Kyiv.
Сost of the tour: on request
+38 050 936 96 80 (WhatsApp, Viber, Telegram) or contact@ukraine-kiev-tour.com
One of tourist's reviews...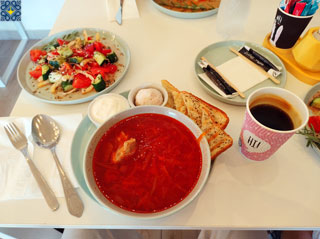 The nuclear missile base at Pobuzke was an extreme visit. Going deep underground into the command bunker you felt the seriousness of the place. Once the command center was powered up it was strange to see the 1970s computers, button lights, and gauges flash on ready for the button push to end the world.
Craig Martindale, Washington, USA

Optional Air Tour in Airfield Kamiahnyy Meest for sightseeing flight by light aircraft PZL-104 Wilga during 30 minutes to look at Museum of Strategic Missile Forces in bird's eye view and relax in Aviation Restaurant "Seventh Heaven".

Total cost includes:

- all transfers to/from hotel in Kiev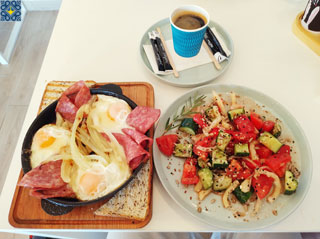 - support for English-speaking guide and interpreter during the entire tour
- all transfers on the route of the trip by car (2 persons) or minivan (more than 2 persons)
- entry tickets to museum and descent in

Unified Command Post (UCP)


-

lunch




Total cost not includes:

- flight tickets to/from Kiev
- insurance (could be purchase in Kiev before the tour)
- souvenirs and personal expenses
- IS-3 tank ride
Ukraine Missile Museum Helicopter Tour from Kiev by Robinson R44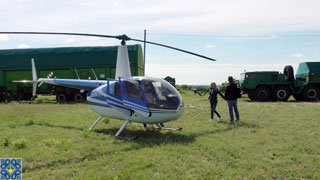 Itinerary
Transfer from hotel in Kiev to Kiev Heliport.
Flight from Kiev Heliport to Museum of Strategic Missile Forces by helicopter Robinson R44 around 1 hour and 30 minutes.
Tour of Museum of Strategic Missile Forces with descent to Unified Command Post (UCP).
Flight from Museum of Strategic Missile Forces to Kiev Heliport (around 1 hour and 30 minutes).
Transfer from Kiev Heliport to hotel in Kiev.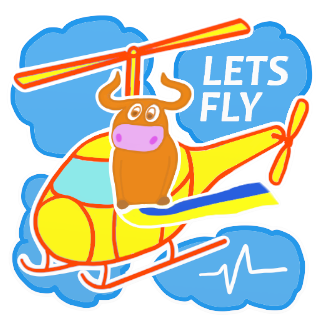 Total cost of the tour: on request
Maximum number of tourists - 2 persons.
If your group is larger - we could offer for the helicopter tour more larger helicopters - Eurocopter EC120 (3 passengers), AS350 (3 passengers), EC145 (7 passengers), Bell 407 (4 passengers).
Total cost include:
- support for English-speaking guide and interpreter during the entire tour
(in case there are 2 persons so there is a seat for a guide)
- transfer on the route Kiev - Museum of Strategic Missile Forces - Kiev by helicopter Robinson R44
- transfer to/from hotel in Kiev
Total cost not include:
- meals
Ukraine Museum of Strategic Missile Forces Tour | Our clients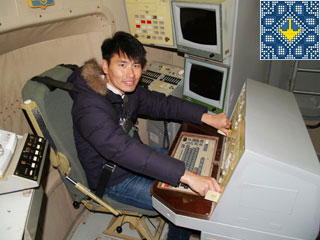 It is a coincidence to find this agent online. Pavel is also the boss, who is very warm and talkative. The base price of the missile base tour is slightly lower than the price of other travel agencies, but the quality of service is five stars. Have a lot of knowledge, fluent in English, do not forget to explain the details of each and are happy to answer any questions. The former Soviet strategic missile base is also a hot-spot attractions, you can close watch the world's largest active strategic missile - Satan. You can go down to the ground 45 meters deep to Soviet strategic command center to experience the moment when the missile launch, all exciting. Is worth a place and a long aftertaste!
For the compare with Chernobyl and Missile Base, it is in different field and it is in the same position in my heart. We learn the Chernobyl in our history book and it is a memorable site, it is a shock by the comparition of the past live life but now become a dead city, but the visiting is a little boring because most time are on cars and visit buildings for a few minutes. The strategic missle base is exciting as I can see the whole process of the missle operating and launching and it is interesting the at the end we have cosplay sector for missile launching. It is like one still and one exciting, I will arvise my friend to visit both.
Zhang Han, Shanghai, China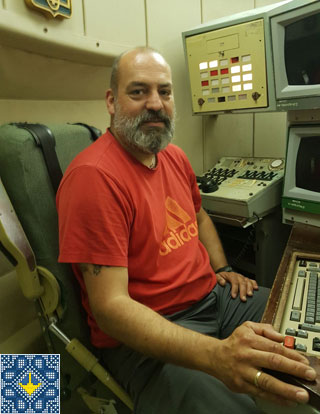 Thanks for your recommendations about Museum of Strategic Missile Forces. It was very interesting and I belive this is the one and only place to see such an object in the world so close.
Chris, Germany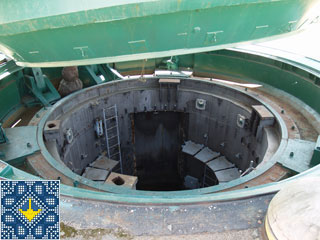 Wonderful Day tour with Pavel and his driver Peter!

Had a fantastic full day tour to Museum of Strategic Rocket forces in Pervomaysk with Pavel from Ukraine-kiev-tour.com. Pavel promply responded to all my inquiries / messages and set up a great full tour. He works with a driver - Peter with a Volkswagon mini van for transportation. so while you are touring Pavel can concentrate on doing the guiding and speaking with you while leaving the driving to Peter. Pavel speaks great English and has a lot of knowledge of many places in Ukraine, so whether you just want to tour Kiev or go further out in-country he can do it all. He has contacts in his phone for the local directors of many places most people info want to visit allowing for easier arrangements of tours of things/places that it may otherwise need prior arrangements - for example when I was with him, he made direct calls to tour guide of State aviation museum, and Motherland Statue lead guide for climbing to the top of the statue. Per his suggestion we visited the Missile Museum on a weekday to avoid crowds - it is a full day trip - 3.5 hrs drive away from Kiev. We were one of only a few people there and the former military officers who used to serve at the military installation, but now act as guides were able to spend almost 3 hours with just us. On way back we stopped in Uman and Pavel also lead a great tour thru the beautiful Sofiyivsky Park. If I ever return to Ukraine, I would certainly do more touring with Pavel.
Ted, USA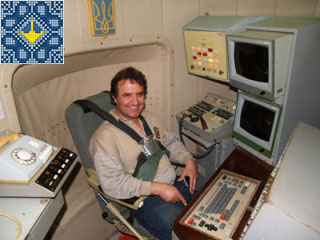 Daryl, Canberra, Australia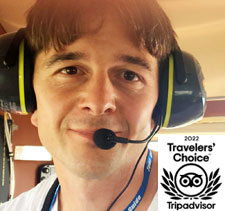 Pavel Korsun
Tour Guide
Ukraine tours and Kiev tours
Book your tour or request information:
+38 050 936 96 80
Viber, WhatsApp, Telegram, Snapchat

| | | |
| --- | --- | --- |
| | - please, look at reviews of tourists about our tours | © 2011 - 2022 All rights reserved |