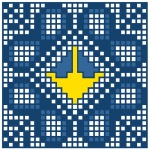 Special Ukraine Tours
Kyiv Tours | Tour Guide


Ukraine Tours with Tour Guide for 105 Percent Satisfaction!

Kyiv Tour Guide | +38 050 936 96 80 |
contact@ukraine-kiev-tour.com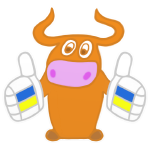 Ukraine Tours Reviews | Tourists reviews about travel service

Tourists reviews about Ukraine tours, Kiev tours and travel service that is organized by tour guide Pavel Korsun for international tourists for their joy and happiness!

Welcome to Kyiv and Ukraine!


Ukraine Tours Reviews | Welcome to Ukraine!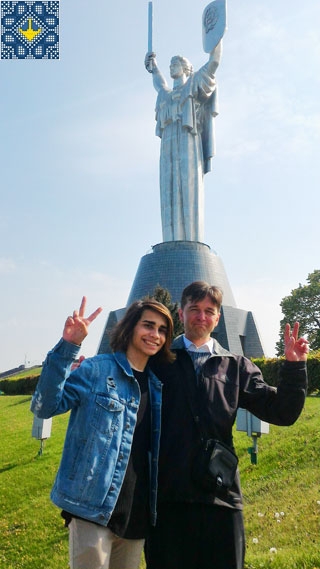 Do it, do it - climb the Mother Motherland!

10 out of 10!

I think that our experience was really good. Some scary but at the top is very very cool!

It was a lots of fun and I definitely recommend anyone who come to Kiev climb the monument.

It is incredible like nothing I ever seen - the climb is really exciting! Great! It was amazing!

Video of SBS Australia about Isaiah Firebrace climbing Mother Motherland in Kiev:
https://www.instagram.com/p/BTw2h8Ng-qy/

Isaiah Firebrace, singer-representative of Australia in Eurovision 2017 and Australian Team
Moama, New South Wales, Australia
Mother Motherland Monument Tour to Observation Platform of 91 Meters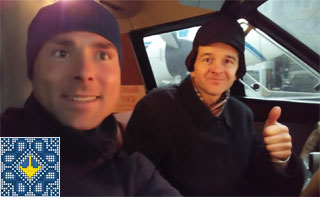 Yet another business related trip to Kiev. Inspired by the good experiences from our last time, we again asked Pavel for help and are happy to say, this was a good choice!

Aviation Enthusiasts will like this tour:

First we took a tour to the State Aviation Museum adjacent to the City Airport (IEV, UKKK). This is very interesting with some very unique aircraft on display, one of them is the Naval version of the reconnaisance aircraft NATO named Bear. Realy a great Museum and Pavel was very eager to tell the stories behind the many airplanes history.

In the afternoon we made a visit to the University, where a hangar full of airplanes is situated. This little known fact is quite interesting. The airplanes are mainly intended for the university students to have hands on training, but Pavel managed for us to sit in the Cockpits, operate the controls and even motor the starter of a Mi8 Helicopter. Everything is functional and kept in good condition. For an aviation enthusiast like me, this was a very interesting and enjoyable trip to Kiev.

Once again - Thank you Pavel!.
Pilot Christian, Germany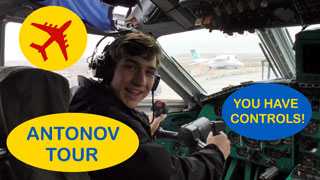 I sincerely appreciate your hard work and time for putting the tour together for us. It was so much more than what I expected. We felt welcomed and everyone was very friendly. Memories were made that will last a lifetime and my grandchildren will talk about.
Ian and Andrew, USA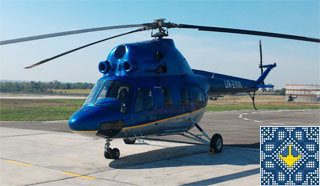 I had to do some flight training for my next job, and by luck we managed to get in touch with Pavel in Kiev. He gave us a great deal to fly the required hours in his country, and he turned out to be the best tour guide I've ever come across. Not only did we have a great week in Ukraine, we also managed to visit all of the many aviation and Cold War related museums while on a tight schedule. Pavel really is an aviation enthusiast and will be a great pilot in the future. I was really surprised by the extents of his knowledge and had a great time listening to him and the stories of his friends who have been Soviet pilots. If you are crazy about aviation and want to do a tour of an amazing country, with lots of aviation history, Pavel is definitely the person to talk to. I will definitely be back to explore more of this amazing country and culture, and of course to have another drink with my new friend Pavel.
Stefan, Netherlands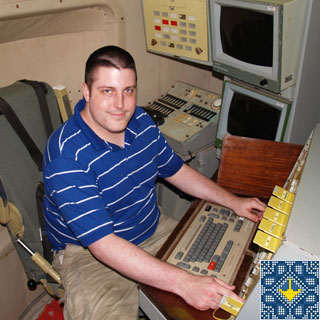 I chose Pavel to plan my Ukraine vacation for many reasons. His website is such a great resource. Every element of the tour is explained in detail so you know what you are doing, seeing and paying for. Other Ukrainian tour agencies I checked out on the internet do not offer such a wide range of activities and sights to see. Pavel speaks excellent English and is a good backup photographer when you are too busy having fun to take pictures. When Pavel takes you around to different destinations in Ukraine he makes sure to recruit the local experts and guides to explain what you are looking at. Even though Ukraine is in the news for having a military conflict, it is a huge country and the military action is only in a small area. I felt safe the whole time. Plenty of ATM machines, affordable food and hotels, and free internet all around. Peter is a good driver, request him too.

Highlights

I loved driving the BTR-60 Armored personnel carrier at the Shampaniya interactive museum. The BTR is similar to the American Stryker but the Stryker only has been around for 15 years and the BTR much longer. If you are crazy enough and want to scare your mom, lie on the ground as it drives over you. Awesome collection of Afghan war and WW2 weapons and many activities, bring extra money! As a criticism, I think the museum needs more sizes of reproductions of historical uniforms for photo shoots. Humans today around the world are much larger than in the 1940s. Cool to know if they do fit you are posing in historically authentic uniforms.

Buran is the super high tech space shuttle program flown only once by the Soviet Union. It went into space and back completely automated with no crew onboard. That was a massive surprise to me as I had never heard of it. I don't think many Americans are aware of Soviet air and space accomplishments beyond Sputnik and Yuri Gagarin.

The nuclear missile base at Pobuzke was an extreme visit too. Going deep underground into the command bunker you felt the seriousness of the place. Once the command center was powered up it was strange to see the 1970s computers, button lights, and gauges flash on ready for the button push to end the world.

For the authentic Red Army Experience, drink some locally made vodka and hook up with a local girl ;)

Craig Martindale, Washington, USA, Ukraine Military Tour "Soviet Union (USSR) Military Heritage"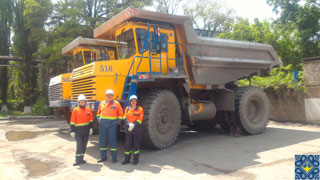 Great experience visiting Kryvyi Rih!
If you are thinking of exploring outside Kyiv, I would thoroughly recommend getting in touch with Pavel. He could not do enough for us as we prepared for our recent trip to Kryvyi Rih – he was very keen to fit in with our specific wishes and kept us very well informed about arrangements (including what was possible and what might not be). Although we weren't able to descend into the Yugok open cast mine, we were able to get impressions from the viewing platform and Pavel coordinated this with our visit to the massive Arcelor Mittal plant which was truly memorable. Our guide there Natalia was again very alert to the things that we were interested in e.g. the amazing story of the plant packing up to evacuate to Tagan Rog in the Urals during the Second World War. The fact that we were shown round different sections by people working there also meant that we really felt we learnt a great deal from the whole experience. Kryvyi Rih is a fascinating place and everyone we met was friendly – I would hesitate to drive to Kryvyi Rih again because the roads are probably the worst I've ever seen but I'd love to go back and spend more time there. I think there's good potential for tourism. Thank you Pavel for all your assistance!
Cathy, Simon and Francesca, diplomats of British Embassy Kyiv, ArcelorMittal Kryvyi Rih Tour and UGOK Open Mine Viewpoint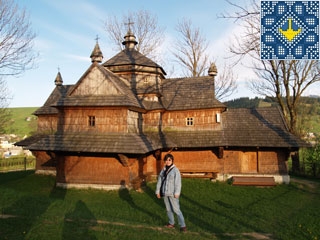 1 week after returning to Paris, I begin to check all the itinerary that we have done and photos in Carpathian regions. First of all I renew my gratitude to you who organized this 5 day's Carpathian tour.
The schedule was very hard, as usual, but I admet that my request was also hard. After the trip I have only a good memories in each spot, not only the main thema to visit ancient wooden churches but also the discovery of different cultures in Carpathia.
All arrangements are perfect and I can imagine how much you have consacred your time for the preparation of this trip. We have done more than 12 hours every day but I could have a good rest at each hotel where I stayed.
Only one remark for the similar tours in the future, I think it is better to choose a car adapted to the very bad road, if we can call it "Road".
Thank you again and hope to see you in the next visit in Ukraine.
Best regards!
Yoko Okano, Japan-France, Ukraine Tour "Wooden Churches of Carpathians"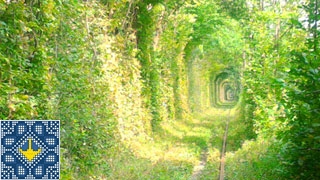 Just completed the two day Tunnel of Love tour with Pavel. Although there is a lot of driving Pavel managed to break up the tour nicely with lots to see on the way and on the way back. Pavel is a wealth of knowledge and kept up a commentary on the history and interesting points of the places we visited. While still allowing us to sit back and appreciate the view I could not recommend Pavel more highly. Even when we ran into some car trouble Pavel handled it with professionalism and we still managed to see all of the sites on the way. Thanks Pavel for a great tour.
Sam and Sarah, Sydney, Australia
Tunnel of Love 2 day tour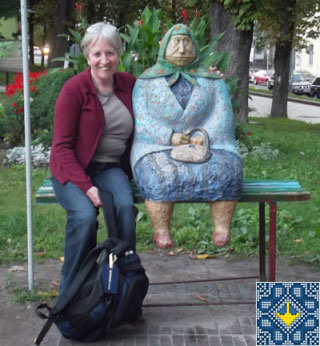 Thank you for giving us such wonderful holiday in Ukraine. We have enjoyed it so much. Thank you for looking after us so well and for your kindness and consideration at all times.
We wish you and your business well for the future and if you ever get the opportunity to visit Australia we would love to have you stay at the farm and pick you up at the airport in Sydney. Best wishes to you and your family. We will always remember you and keep in touch.
John and Glenys Dymock, Boorowa, Australia, Ukraine Tour "West Ring and South Loop"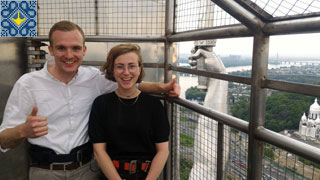 Fast decision at almost the end of the day to climb Mother Motherland and just in 60 minutes we get to viepoint at the shild of the statue and the top of Kiev. Amazing experience!

Nicholaas and Roos, Amersfoort, The Netherlands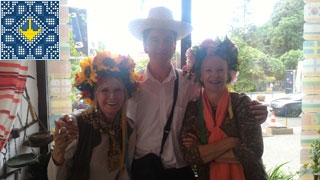 If you are looking for a real experience in Kiev you must book with Pavel. He is the best guide I have had and I have traveled to 116 Countries! He is so knowledgeable and has designed the best way to see everything in a day. Plus he is fun and you can tell he enjoys sharing his Country with you. He actually gives you more time if needed to accomplish all he has promised. His English is very good and he provides a van so you don't have to walk all the time.The van is comfortable, the driver is the best, and Pavel provided water for us. He includes entrance fees in his price and for what we got, I would highly recommend his company. His prices are very reasonable. His personality is very enjoyable and he is determined to show you a good tour. He ended the tour by taking us to a restaurant that serves typical Ukrainian food. It was delicious. A perfect way to end a perfect day in Kiev!
Mary and Cathy, Los Angeles, USA
Kiev Tour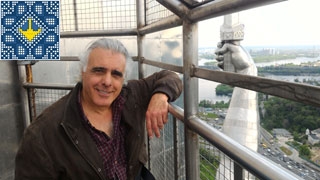 The best tour and guide I have experienced in all my years of travel to 49 countries. They took the time to explain and went beyond adding interesting things to get a full experience of Kiev.

Anthony, Essex, USA
Kiev Tour and Mother Motherland Monument Tour to Observation Platform of 91 Meters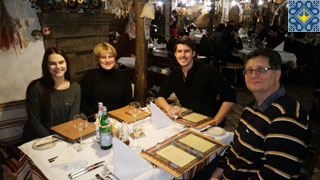 Thank you Pavel for a fantastic sightseeing tour of Kyiv. You are a fountain of knowledge and you were able to explain every place in great detail. You tailored the tour to our needs and showed us the most beautiful sights of Kyiv with a complete historical and architectural explanation. Your personality ensured we spent the afternoon with a friend not just a tour guide. I would recommend your tours to everyone.
Hopefully, Lehenda Ukrainian Dance Company will perform in Ukraine in the future.

Maryanne with her family, Australia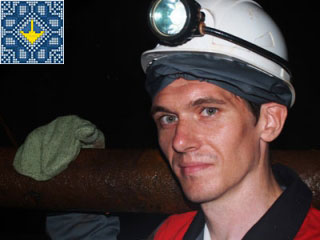 When you go to visit a new country, a new city, you will come across the historic architecture of the city, beautifully decorated parks, museums with broad themes. Kryvyi Rih offer something totally different you will not find in many cities. Rodina Mine showed me how the work of more than 1,300 meters underground. The safety of our 10-person group cared of four skilled workers. In the meantime, we traveled by train, walked through mining excavations and seen how they work with new mining machinery. Over four hours walking have passed quickly. At any moment we could ask various questions related to the work of a miner, as well as the mysterious ... Shubin. Worth seeing.
Dwight from Silesia, Poland
Ukraine Tour "Rodina Mine"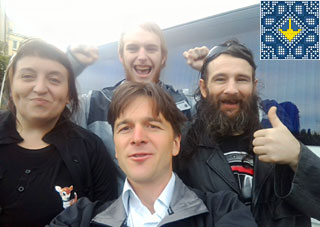 An amazing tour. Thanks so much for taking us (and for this video).
Kylie Walker with friends, Wellington, New Zealand
Kiev Hydrofoil Tour By Polissya One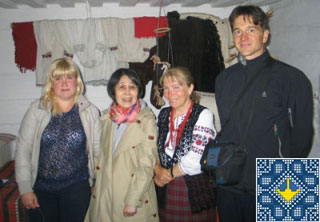 The both tours were extremely hard in schedule, I have to say. However full of rich experience of these tours gives me now not only a good memory but also lots of love to Ukraine and Ukrainian people.
Hereafter my comments about our tours.
- All arrangements were excellent in general including your guidance and care door to door.
- The schedule was hard due to the roads which are not yet well structured for the tourism especially in Cherkassy region.
- 2 hotels were also good enough but the hotel in Buda should be appreciated to stay a little longer in a calm but I had just 3 days to do all itineraries unfortunately.
My great thanks to you Pavel and to the driver Alexey, both so kind and careful, who made my dreamful tours efficient and real. Especially the visit at museum in Shevchenkove and meeting with museum staffs who love Taras Shevchenko so much were so emotional and unforgettable for me. All of you have shown Ukrainian golden heart to me and I'm sure you will continue to do so to all futur tourists in UKR.
Yoko Okano, Japan-France, Ukraine Tour "Taras Shevchenko Places"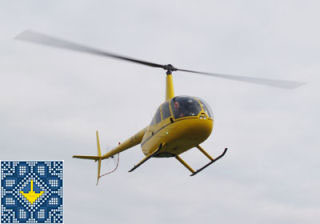 I enjoyed meeting you and everybody else during the trip. I must say Ukrainians are very friendly people, it is a very nice country.
The experience at the airfield with more "soviet era" infrastructure was I thought very good! I understand that Kiev is a vast concentration of wealth and influence, like all big cities everywhere!
Roger, UK, Kiev Helicopter Tour
Fantastic Helicopter Tour Over Kiev!
I wanted to make a romantic surprise to my girlfriend. We made a helicopter ride over city. We had great time. She was very happy. Thank you Pavel for the fantastic tour! I recommend this tour to everyone!
Emre, Turkey, Kiev Helicopter Tour
I have taken helicopter tours in other European cities but this was the most enjoyable to date. Pavel provides a very personal, well organised and friendly service, and it is great not having to share the helicopter with others. My partner was nervous about the tour but for the rest of the day was then talking about how wonderful it was. I have been to Kiev a number of times but this is a unique way to see any city and also to see sights that you cannot see from land. I would recommend this tour to anyone!
David, UK, Kiev Helicopter Tour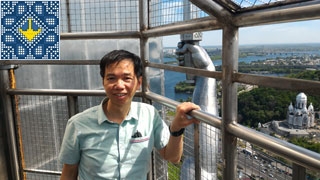 Amazing experience in compare with the climb to the crown of Statue of Liberty in New York. There was a wind and feels like the statue is swinging and it makes the climb even more impressive!

Kit Wing Lo, Hong Kong, China
Kiev Tour and Mother Motherland Monument Tour to Observation Platform of 91 Meters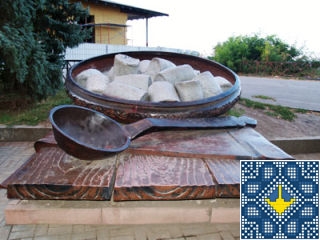 We've just finished our tour of Poltava Battlefield Museum. Margarita was an excellent guide as well as Victor in Poltava museum. Thank you for organising the day out.
Kind regards
Rolf Grein, Germany, Poltava Tour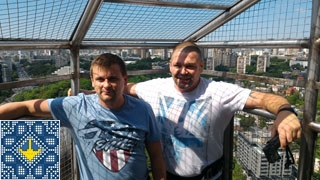 10 out of 10!
James and Ollie, Dublin, Ireland
Mother Motherland Monument Tour to Observation Platform of 91 Meters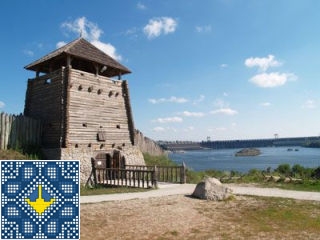 I really enjoyed the tour of Zaporizhzhya and Dnipropetrovsk espically in Zaporizhzhya I visited many places there. But I like Dnipropetrovsk soo cool city. Thank you for great tour and thanks all translators and the drive too.
Abdelaziz Ali, United Arab Emirates, Zaporizhzhya and Dnipropetrovsk Tour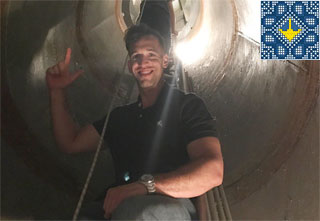 Awesome, thank you for the everything! I've never been treated so well by everyone here. The hospitality is terrific!

The tour of the Motherland monument was epic. Pavel, the lead tour guide was extremely accommodating and knowledgeable. He picked me up at my apartment and we went straight to the location. He organized the climb up the monument to the highest point we could go at this time. Great communication and the time was without a doubt memorable! This tour should be a priority and a must to-do for anyone visiting Kiev!!
Robert, Stratford, Connecticut, USA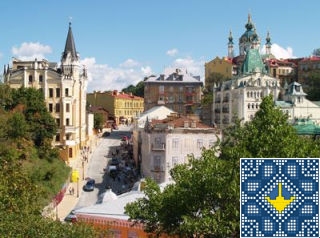 You did a wonderful job and were able to give us a taste of your beautiful city inside a park. Thank you for all the info and history. What a beautiful city!
Nancy, Karen, Regina and Verginia, United States of America, Kiev Tour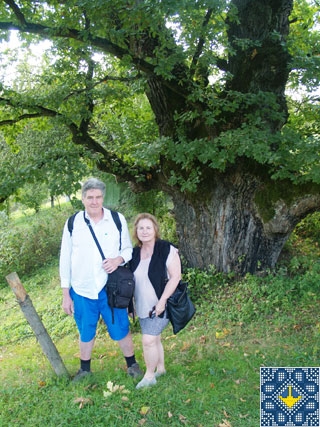 Dear Pavel,
We really enjoyed our time in Ukraine and got only the very best impression of your beautiful country. I'm sure that we will return - and soon!
Mark and Lynda, Fremantle and Perth, Australia
Ukraine Tour "West Ring"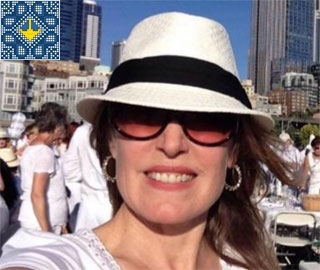 Pavel, you are Fabulous! Fabulous tour of your incredible city!!! Thank you again!
48 Hours in Kiev | Article - Review on Global Adventuress
Patricia Stone, Global Adventuress, USA
Kiev Tour, 2 days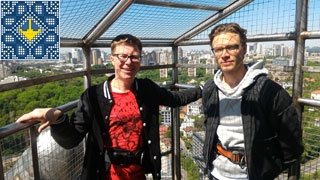 It is fantastic view from above! Great experience!

Robert with a friend, Stockholm, Sweden
Mother Motherland Monument Tour to Observation Platform of 91 Meters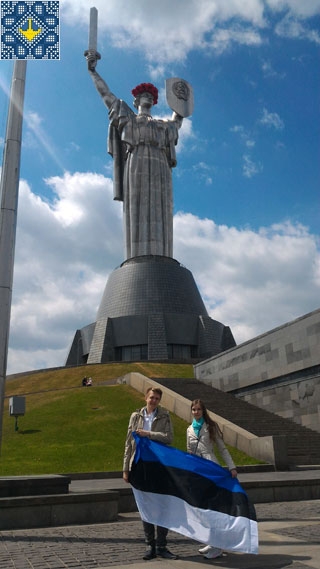 If you are in Kiev and the weather is good - climb the Motherland! Stunning views from the shield is amazing!
In Estonia there is a TV tower not far from Tallinn to climb but the view from Mother Motherland Statue with beautiful river, green trees and Kiev is really fantastic!

Heini with his sister, Keila, Estonia
Mother Motherland Monument Tour to Observation Platform of 91 Meters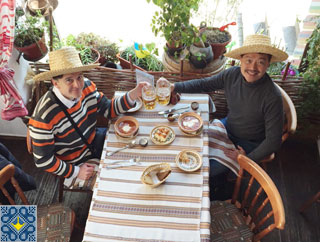 I just concluded a day tour in Kiev, Ukraine, This city is replete with history and there is just so much to see here. I was very fortunate to have Pavel as the guide. He not only planned the sightseeing exceptionally well to accommodate my tight schedule but also demonstrated his mastery of local knowledge, history and culture throughout the whole tour. It was both an educating and fun experience for me and I would not hesitate to recommend Pavel's service to anybody who loves and wishes to know all things Ukraine. I hope to come back to Kiev with my wife again as we know we have a best tour guide in here and he is also someone we can call friend.



KC, Singapore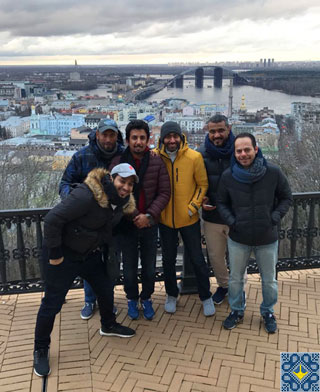 Many thanks for Mr. Pavel for handling our trip from A to Z very helpful company and very nice gauide, every time we will visit kiev we go to them back!

Bader with his friends, Saudi Arabia
Kiev Tour
| | | |
| --- | --- | --- |
| | - please, look at reviews of tourists about our tours | © 2011 - 2022 All rights reserved |