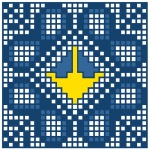 Travel Guide | Ukraine Kiev Tour
Ukraine Tours | Group | Individual


Invite you to travel in Ukraine, take part in Ukraine tours and enjoy perfect travel moments of sightseeing, helicopter, industrial, military, children, aviation and city tours!

Kiev Tour Guide | +38 050 936 96 80 |
contact@ukraine-kiev-tour.com
Ukraine Tour | Tour "Ukraine West Ring"
Itinerary, Sights, Attractions and Map
Individual and group tours to Ukraine with Ukrainian local guide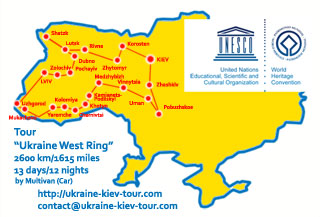 Ukraine Tour "Ukraine West Ring" is for active tourists who want to see most interesting sights of West Ukraine and objects of UNESCO World Heritage.
West Ring Tour includes objects of UNESCO World Heritage listed in Ukraine.
You spend 12 days and 11 nights in high rhythm of Ukrainian life and culture. You travel around Ukraine over 2600 km/1615 miles by comfortable transportation and enjoy Ukrainian food and sights and attractions on the way. We try the best you have perfect travel memories about Ukraine. You are welcome to Ukraine!
Tour "Ukraine West Ring" Itinerary

Day 1

Transfer by private car from hotel in Kiev to Korosten. Visiting of Military Museum "The Rock" - Bunker of Joseph Stalin and Gas Masks Museum. Transfer to Zhytomyr, visit of Sergey Korolyov Museum of Cosmonautics (one of the most valuable exhibits is a capsule with the lunar soil), Nature Monument - Rock "Chatsky Head", Transfiguration Cathedral. Transfer to Rivne with visit of Rivne brewery and beer tasting. In spring, summer, autumn and winter visiting Romantic Tunnel of Love. Transfer to Lutsk. Night in hotel.


Tunnel of Love


Sergey Korolev Space Museum

Day 2

Transfer from Lutsk to Shatsky National Park. Soviet jeep tour around 5 lakes (Safari - 1) or 7 lakes (Safari - 2) and privat yacht sailing on Svitiaz Lake. Optional activities: bicycle ride around Shatsky Lakes. Transfer to Lutsk. Night in hotel.


Shatsky Lakes | Svitiaz Lake


Shatsky Lakes | Soviet Jeep Safari

Day 3

Tour of Lutsk Lubart's Castle, Church of Saints Peter and Paul, Lutsk "House with Chimeras" (House of Sculptor Nikolai Golovan). Transfer to Dubno and visit of Dubno Castle. Next to Holy Dormition Pochayiv Lavra. Transfer to Lviv and on way visit Pidhirtsi Castle and Olesko Castle. Evening visit of Museum of Beer in cellars of brewery in Lviv. For additional fee - tickets to Opera House. Night in hotel.


Pochayiv Lavra Monastery


Lubart's Castle

Day 4

Walking tour of Lviv Sights: Market Square (UNESCO World Heritage), Lviv Opera and Ballet Theatre, Latin Cathedral, Dominican Church, St. George's Cathedral, Armenian Cathedral, Mountain High Castle, Town Arsenal, Kornyakt's House with an Italian courtyard, Assumption Church, Bernardine Monastery, Chapel of Boim, Potocki Palace, Black Kamenica, Powder Tower, Mickiewicz Monument, Pharmacy Museum. Visit unusual restaurante Krayivka for lunch. Free time. Night in hotel.

Day 5

Transfer to Drohobych - wooden church Tserkva of Saint George (UNESCO World Heritage, XV). Transfer to Urich and visit fortification Tustan of Kiev Rus time. Next transfer to Tserkva of Synaxis of Blessed Virgin Mary (UNESCO World Heritage, 1838) in Matkiv. Transfer to Mukachevo. On the way visit of Bunker Arpad Line in Verkhnia Hrabivnytsia, Schönborn Palace Castle in Karpaty and Saint Miklosh Castle in Chinadiyevo. Night in hotel.


Schönborn Palace Castle

Day 6

Transfer to Uzhgorod. On the way visit Serednie Bodegas and Transcarpathia wine tasting. Visit of Transcarpathian Museum of Folk Architecture and Life in Uzhgorod: Church of St. Michael (1777). Sight of Uzhgorod: Holy Cross Cathedral, Church of St. George, Korzo street, Linden (Sakura) alley and the smallest light house in Ukraine looks same as USA Statue of Liberty.Transfer to Uzhok by road with spectacular views of Uzhansky National Nature Park and visit Tserkva of Synaxis of the Archangel Michael (UNESCO World Heritage,1745). Next visit "Grandfather-Oak" and "Oak Champion" in Stuzhytsa - the oldest oaks in Ukraine age of 1200 and 1300 years old. Transfer to Mukachevo and on the way visiting of Roman Catholic Church of St. Augustine in Perechin and Nevytsky Castle. Night in hotel.


Grandfather oak

Day 7

Sights of Mukachevo: Palanok Castle and Town Hall. Transfer to Kosino Thermal Resort for thermal bath of healing mineral water. Next visit Chizay Wine Tasting Room of 10 type of wines and famous wine "Troyanda Carpathians" (optional activity). Transfer to Valley of Daffodils in Hust (in spring time). Sights in Hust: Nyzhnje Selyshche Cheese factory and Snail Farm (optional activities), Center of Withe Weaving and Deer Farm. Transfer to Synevyr Polyana. Night in hotel.

Day 8

Visiting of beautiful Synevyr Lake. Transfer to Center of Bears Recovery and Ecopark "Valley of Wolves". Visit wooden churches of Maramorosh style in Sokirniza: Church of St. Nicholas (1709) and Kraynikovo: Church of St. Michael (1668). Way on beautiful road on banks of Tisza river to Yaremche. On the way visiting Monument Geographical Center of Europe, Tserkva of Our Lord's Ascension (UNESCO World Heritage) in Yasynia, in Mikulichin: Trinity Church (1868) and in Yaremche: Church of St. John the Merciful (1663). Evening dinner at restaurant Hutsulshyna. Night in hotel.

Optional activity - visit Primeval Beech Forests of Carpathians (UNESCO World Heritage) and hiking unique Karst Bridge Track (need to add additional day to the tour itinerary).


Synevyr Lake

Day 9

Sight of Yaremche: Probiy Waterfall and local souvenir market. Transfer to Kolomyia. On the way visit Tserkva of Nativity of Blessed Virgin Mary  (UNESCO World Heritage) in Nyzhniy Verbizh. Sights in Kolomiya: Pysanka Museum. Transfer to Zalishchyky and Khreshchatik for Panoramic Views of Dniester Canyon. Transfer to Chernivzi. Sights in Chernivzi: Residence of Bukovinian and Dalmatian Metropolitans (UNESCO World Heritage), City Center, Nicholas Cathedral (Drunk Church). Night in hotel.

Day 10

Morning transfer to Khotyn to look magestic Khotyn Castle and Church of Alexander Nevsky. Transfer to Kamianets-Podilskyi. Sights of Kamianets-Podilskyi: Kamianets-Podilskyi Castle, Tower of Stefan Batory, Town Hall, Statue of Tourist. Transfer to Medzhybizh. On the way visiting Intercession Church-Castle in Sutkivtsi. Sights in Medzhybizh: Medzhybizh Castle and Trinity Church (ruins). Transfer to Letichev: Letichev Castle (Dominican Convent) and Ustim Karmelyuk tower. Transfer to Vinnytsia. Sights in Vinnytsia: Wehrwolf (ruins) and Private collection of weapon of Second World War. Unique night show of Light and Music Fountain Roshen - Europe's largest floating fountain. Night in hotel.


Kamianets - Podilskyi Castle

Day 11

Transfer to Uman. On the way visiting of Museum of Aviation Pioneer Alexander Mozhaysky in Voronovitsa. Walking tour in beautiful Sofiyivka Park. Transfer to Pobuzke. Visiting Museum of Strategic Missile Forces as military heritage of the USSR. Transfer to Zvenihorodka. Night in hotel.


Park Sofiyivka

Day 12

Transfer to Kiev. On the way visiting Military Museum of Second World War and Soviet Afghanistan War in Shampaniya (optional activity - military vehicles rental and dummy bullets shooting). Transfer to Rzhyshev. Private boat tour to Husintse with visit of Flooded Church of Transfiguration. Transfer to airport this or next day.


Flooded Church of Transfiguration

After Uman and Military Museum of Second World War and Soviet Afghanistan War in Shampaniya you can choose to drive to Ukraine South Ring Tour with visit of most interesting sights and attractions of Odessa, Mykolayiv, Kherson, Askania Nova, Zaporizhzhya, Dnipro and Poltava.

Optional activities after tour "Ukraine West Ring"

Day 14

Day tour to Pirohiv Open Air Museum of Ukrainian folk craft and architecture and Feofaniya Park.

Total cost of tour "Ukraine West Ring". Terms and conditions

Minimum number of tourists - 2 persons.

1797 EUR per person (3 stars hotels)
2397 EUR per person (4 stars*). * - Hotel in Zvenihorodka is 3 stars.

You also could make tour "Ukraine West Ring" by helicopter Robinson R44 or Mil Mi-2:
Ukraine Helicopter Tour "Ukraine West Helicopter Ring" 4 day/3 nights

The tour itinerary could be change during the tour depends on situation and weather conditions.

Total cost includes:

all transfers to/from airport KBP or airport Kyiv
support for English-speaking guide and interpreter during the entire tour
all transfers on the route of the trip in car (2 persons) or minivan (more than 2 persons)
all hotels on the route according to the Itinerary (Standard Double)
Bed and Breakfast (BB)
entry tickets to museums or other sights

Total cost not includes:

flight tickets to/from Kiev
insurance (could be purchase in Kiev before the tour)
optional activities on the tour route
souvenirs and personal expenses
lunches and dinners

Reviews and Comments of Our Tourists

Dear Pavel,
Thank you for giving us such wonderful holiday in Ukraine. We have enjoyed it so much. Thank you for looking after us so well and for your kindness and consideration at all times. We wish you and your business well for the future and if you ever get the opportunity to visit Australia we would love to have you stay at the farm and pick you up at the airport in Sydney. Best wishes to you and your family. We will always remember you and keep in touch.

John and Glenys Dymock, Boorowa, Australia
Ukraine Tour "West Ring and South Loop"











Dear Pavel,
We really enjoyed our time in Ukraine and got only the very best impression of your beautiful country. I'm sure that we will return - and soon!

Mark and Lynda, Fremantle and Perth, Australia
Ukraine Tour "West Ring"

Rent Motorhomes in Kiev, Ukraine with GPS Navigation (Waypoints)
for Ukraine Tour "West Ring" | ADRIA Sport A 660 DP





Motorhomes ADRIA Sport A 660 DP

Engine

diesel

Engine power

150 hp

Number of beds

6

Transmission

automatic

Drive

front-wheel

Length

7230 mm

Width

2300 mm

Height

3080 mm

Prices of Motorhomes Rental in Kiev, Ukraine

Number of days / Period

Cost/day

5-15 days

165 Euro

15-21 days

155 Euro

21-30 days

1345 Euro
| | | |
| --- | --- | --- |
| | - please, look at reviews of tourists about our tours | © 2011 - 2020 All rights reserved |