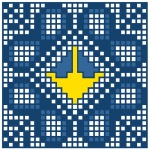 Special Ukraine Tours
Kyiv Tours | Tour Guide


Ukraine Tours with Tour Guide for 105 Percent Satisfaction!

Kyiv Tour Guide | +38 050 936 96 80 |
contact@ukraine-kiev-tour.com
Shiroke Airfield | L-29 Delfin, Mi-2, An-2, An-24T, PZL-104 Wilga
Individual and group tours to Zaporizhzhya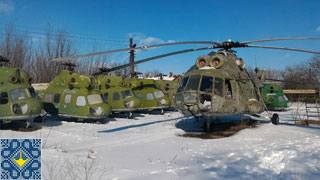 Aviation School in Shiroke Airfield of Zaporizhia region worked since 1988 as airbase for pilot training of Soviet DOSAAF and flight training center named after Alexander Pokryshkin.
Update! L-29 Jet Fighter Flight in Kharkiv, Ukraine | 15 and 20 minutes and the same Vovchansk Airfield
At Shiroke Airfield prepared a reserve of test pilots for the whole of USSR and here they got the title of "junior lieutenant" and learn how to fly.
The aviation school was one of the most powerful schools in USSR with area of 300 hectares, many educational buildings and equipment for training of military pilots. Its balance consisted of 162 aircraft and helicopters, 111 vehicles and 1500 parachutes.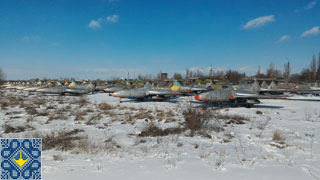 For the training of pilots in primary education were used aircrafts Aero L-29 Delfin. Then those who mastered L-29 switched to combat aircraft on an accelerated program. There were civilian aircrafts that were used throughout Soviet Union.
In 1994 the funding of the pilots training program stopped and this year the airplanes last time were flown to the air from Shiroke Airfield.
At Shiroke Airfield there were two runways. One of them was dismantled in 2000.
The life of the aviation school was finally completed in 2001.
Zaporizhia Flight Training Center named after Alexander Pokryshkin had more than 150 units of equipment:
- Aero L-29 Delfin - more than 60 aircrafts
- Antonov An-2 - more than 10 aircrafts
- Mil Mi-2 - more than 15 helicopters
- Mil Mi-8 - 1 helicopter
- Antonov An-24T - 1 aircraft
- PZL-104 Wilga - 2 aircrafts
Shiroke Airfield | L-29 Delfin, Mi-2, An-2, An-24T, PZL-104 Wilga | Video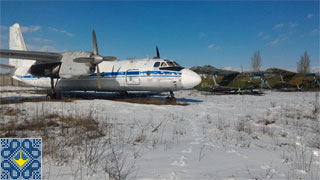 Update April, 2021!
- Aero L-29 Delfin - left around 38 aircrafts
08.07.2020 was sold 20 aircrafts L-29
05.04.2021 two aircrafts L-29 was trasfered to National Memorial Complex Height of Marshal IS Konev)
- Antonov An-2 - left around 8 aircrafts
05.04.2021 two aircrafts Antonov AN-2 was trasfered to National Memorial Complex Height of Marshal IS Konev
- Mil Mi-2 - left around 14 helicopters
05.04.2021 one helicopter Mil Mi-2 was trasfered to National Memorial Complex Height of Marshal IS Konev
- Mil Mi-8 - 1 helicopter
- Antonov An-24T - 1 aircraft
- PZL-104 Wilga - 2 aircrafts
07.09.2020 and 25.11.2020 was sold 2 aircrafts PZL-104 Wilga
In 2018 it is started Shiroke Airfield Helicopter Tours that take place from Motor Sich Heliport in Zaporizhzhya with duration of flight around 60 minutes and ramp tour in Shiroke Airfield for around 1 hour and 30 minutes.
As for organization of tourist visit of Shiroke Airfield, please, contact by e-mail: contact@ukraine-kiev-tour.com or +38 050 936 96 80 (Viber, WhatsApp). Shiroke Airfield Tour is possible for individuals and tourists in the group. The cost of the tour is on request.
Shiroke Airfield Infrastructure
- concrete runway length of 2000 meters and width of 40 meters in excellent condition for take-off and landing of aircrafts and helicopters weighing up to 30 tons
- aviation hangar for storage and maintenance of 10 - 12 aircrafts and helicopters
- air peron
- control tower
Soviet Flight Training Centers
In USSR there was a structure that made it possible to prepare a reserve of military pilots - DOSAAF - Voluntary Society for Assistance to Aviation, Army and Navy established in 1951. DOSAAF subordinate to Chief of General Staff of USSR Air Forces and prepared a reserve of pilots, technicians and paratroopers in case of hostilities. The organization of all training was on such a level that, for example, at the beginning of 1970s in USSR there were about 600 000 reserve flight crew.
Preparation of reserves of military pilots by various models of aircrafts in addition to military high schools was carried out in Flight Training Centers.
They were created by the order of Ministry of Defense of USSR on July 7, 1967 and were administered by DOSAAF which operated in addition to An-2, An-24, An-28, Il-14, Ka-26, Mi-2, Mi-8, Yak-52, Aero L-29, L-39 and until the mid-1980s - training versions of Soviet fighters MiG-15 and MiG-17.
There were flight training centers of the first and the second years of training both airplanes and helicopters.
In the first-year training centers flew by L-29 with flight program of 40 - 60 hours and the second-year - on MiG-15 and MiG-17 which then replaced by L-39 although there was idea to perform training on MiG-21. In the helicopter flight training centers flying time by Mil Mi-2 was 90 - 120 hours.
Flight training center of the first year of training included one or sometimes two (helicopter) squadrons in each of them there were 10 - 15 (sometimes up to 20 - 30) helicopters Mil Mi-2 and 30 aircrafts Aero L-29 Delfin.
Flight training center of the second year of training included 2 - 3 squadrons with the same number of aircraft.
In addition each flight training center consisted of 2 - 3 aircrafts An-2 which were used for parachute jumps and transportation.
Annually in USSR in 35 flight training centers several thousand pilots of military aviation reserve were trained.
Instructor staff for flight training centers and other aviation organizations as part of DOSAAF was trained at Volchansk Aviation School DOSAAF by Aero L-29 Delfin and since 1988 it was transferred to Zaporizhia at Shiroke Airfield where took place flight training for L-29, An-2, Yak-52 and Mi-2.
Another flight training center for An-2 and Yak-18 existed until the mid-1970s in Kirovograd.
After first year of flight training cadets did not receive any formal education from flight training centers and had no privileges except for exemption from conscription in the army.
After two years of flight training cadets of flight training centers received the rank of junior lieutenants of reserve then once every two years they were again recruited for 2 -3 months of training with another 30 hours of flying or as technicians if they did not allow by health conditions, from time to time receiving next military rank of reserve officers - till reserve captain inclusive.
Many cadets often being far from aviation and no longer felt the desire to fly came to the flight traing center more for rest from the domestic routine and instead of them sometimes fly even technicians who served aircrafts.
Some of graduates continued their flying career already in flight higher educational establishments which sometimes ended externally under a special program for 10 months. Because it was already impossible to enter higher flight school as a junior lieutenant sometimes cadets had to hide their officer's rank in various ways. A part of graduates going to civil flight universities in so-called "special training " with 8 - 18 month courses. Some of them after retraining were sent to serve even in Afghanistan as pilot-operators on helicopters Mi-24.
By the most conservative estimates flight training centers at the time of collapse of USSR had about 2000 aircrafts and helicopters:
- 1000 aircrafts Aero L-29 Delfín / Aero L-39 Albatros
- 900 helicopters Mil Mi-2
- 70 aircrafts Antonov An-2
- 10 helicopters Ka-26
After 1992 and colapse of USSR flight training centers was officially abolished.
Shiroke Airfield Historical Video | 1990
History of Alexander Pokryshkin
The famous ace and fighter pilot during WW2 became three times Hero of Soviet Union in April 24, 1943, August 24, 1943 and August 19, 1944.
According to Alexander Pokryshkin official biography during the war he made 650 combat sorties, participated in 156 air battles, destroyed 59 aircrafts. Researchers working with Pokryshkin's notebooks say that with accurate calculations the number of aircrafts that were shot down by him can be significantly increased - from 59 to 80 and even to 94.
In 1941 he was awarded Order of Lenin for his fearless flight by MiG-3 in bad weather conditions after two other pilots crashed trying to take off. Alexander Pokryshkin not only took off but also successfully located enemy tanks of General Paul Ludwig Ewald von Kleist.
Later he participated in many defensive operations in Moldova, Donbass and Rostov. In August 1942 he was appointed commander of squadron of North Caucasian Front. For criticism of outdated tactics of air combat Alexander Pokryshkin was deprived of title of Communist and given to the tribunal. The hero was saved by higher-ranking officials.
In 1943 Alexander Pokryshkin finally realized himself as an innovator of air combat. In the battles in Kuban talented pilot used his own tactical techniques known today as "Kuban Bookcase" and "Speed Swing". Thanks to him Soviet Air Forces began using ground-based radars and advanced control systems.
In any sorties Alexander Pokryshkin assigned himself the most difficult task - destruction of the leader of enemy column as according to his observations this contributed to demoralization of German pilots.
In 1944 President Franklin D. Roosevelt officially declared Alexander Pokryshkin as "the best pilot-fighter of all the allied armies".
Since 1944 Alexander Pokryshkin was transferred to non-combat work in General Staff of Red Army to manage training of new pilots. From that year he became a living symbol of Soviet Air Forces. He was protected and rarely allowed to fly.
In the summer of the same year Alexander Pokryshkin was awarded the rank of colonel and took command of 9th Guards Air Division. His last combat sortie took place on April 30, 1945. He took part in Victory Parade.
You could visit Shiroke Airfield | L-29 Delfin, Mi-2, An-2, An-24T, PZL-104 Wilga with Tour South Ring, Tour Zaporizhzya Sights or Group Tour "Grand Aviation Tour"
Shiroke Airfield Helicopter Tour by Helicopter MSB-2 | Video
| | | |
| --- | --- | --- |
| | - please, look at reviews of tourists about our tours | © 2011 - 2022 All rights reserved |