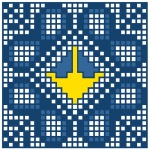 Special Ukraine Tours
Kyiv Tours | Tour Guide


Ukraine Tours with Tour Guide for 105 Percent Satisfaction!

Kyiv Tour Guide | +38 050 936 96 80 |
contact@ukraine-kiev-tour.com
Kyiv Candied Fruit Mini Sculpture opened on 27.04.2018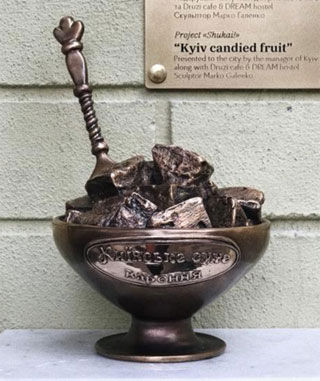 On 27th of April 2018 in Kiev opened Kyiv Candied Fruit Mini Sculpture - hundred years ago it was a popular delicacy and business card of Kiev.
Kyiv Candied Fruit Mini Sculpture is a bronze vase with a spoon and pieces of Kyiv Candied Fruit.
The installation of the mini sculpture is a part of the tourist project "Search" created by travel guide Yulia Bevzenko.
The sculptor of Kiev Cake Mini Sculpture is Marko Galenko.
These moment there are three other main symbols of Kiev that are presented in mini-sculptures around Kiev city center - Chicken Kiev, Kiev Chestnut and Kiev Cake.
Kyiv Candied Fruit Historical Facts
The first mention of Kyiv Candied Fruit dates from XIV century as it was brought in 1386 from Kiev and served at wedding ceremonies of Lithuanian Prince Jagiello.
The re-birth of Kyiv Candied Fruit was preceded by the case with Swiss confectioner Balji who in the spring of 1787 accompanied Empress Catherine II in her journey to Crimea. In Kiev Balji broke his legs so he had to cancel his further trip and stay in Kiev for treatment.
Recovering from the fracture Balji visited gardens of Kurenivka, Pryorka, Vydubychi and noted their excellent and quality fruits. The confectioner realized that cherries, pears, plums, apples, apricots and nuts of Kiev gardens can serve as an excellent material for jam both ordinary and dry the recipes of which he knew. When Empress Catherine II returned to St. Petersburg Balji sent her several boxes of his own Kyiv Candied Fruit to her table.
Empress Catherine II fell in love with new dessert so the confectioner was ordered to stay in Kiev for another year and prepare more Kyiv Candied Fruit. Kiev citizens from rich families - Kselevsky, Lakerd, Barskih, Balabukh - became helpers in its production. Swiss confectioner Balji remained in Kiev all his life and Kyiv Candied Fruit became one of symbols of Kiev of that time.
Later Empress Catherine II even issued a special decree on the supply of Kyiv Candied Fruit to her table. The order was delivered by a special stagecoach. Even later in XIX century Kiev confectioners supplied famous sweets to the table of the governor and other high rank officials of St. Petersburg. Every autumn from Kiev to St. Petersburg stagecoaches with Kyiv Candied Fruit were sent.
Traditionally Kyiv Candied Fruit prepared in small rooms equipped with ovens. Fruits were cut into pieces and stood out in sugar syrup then they were taken out, syrup was allowed to drain and the jam was sprinkled with sugar. For the last operation used strong girls which held large trays in their hands where they put dry jam with sugar and it was necessary to shake trays so that pieces of Kyiv Candied Fruit on all sides were evenly covered with sugar. Then the jam was sieved through a sieve to get rid of excess sugar and dried in the sun. Then ready Kyiv Candied Fruit was put in wooden boxes with each layer shifting by sheet of parchment.
The widest fame of Kyiv Candied Fruit was promoted by merchant Semen Balabukha (1771-1853). He had 8 sons and 7 daughters of whom only two sons later continued the family confectionery traditions.
In 1834 Nikolai Balabukha (1800-1887) - the eldest son of Semen Balabukha bought a house on the corner of Aleksandrovskaya and Andreevskaya streets in Podil with a large garden and two non-residential buildings where he built Kyiv Candied Fruit workshop. And on the first floor of a two-story house that overlooked Alexandrovskaya street Kyiv Candied Fruit store was opened.
In the period of working of Nikolai Balabukha Factory Kyiv Candied Fruit get the world fame and received a number of awards at All-Russian Exhibition in Moscow (1870), World Exhibitions in Vienna (1873) and Prague (1877).
After the death of Nikolai Balabukha the eldest son Arkadyi Balabukha continued his family business. Over time Arkadyi opens a shop in the center of Kiev on Khreshchatyk street. "Balabushki" as they called Kyiv Candied Fruit became one of the most popular desserts. Younger brother of Nikolai - Alexander Balabukha (1818-1888) was also busy preparing syrup and dry jam. In his estate on the corner of Spasskaya and Mezhyhirskaya streets in addition to two-story building where the store was located there were four more buildings in the yard with stoves and braziers.
The property of Alexander Balabukha after his death in 1888 passed to four sons. In 1892 they divided their father's brand. Graduate of Junker school, cornet of cavalry in reserve Nikolai Balabukha for a while controlled one of Kiev factories "Balabukha". Very quickly he achieved the title of "supplier of court of his imperial highness Grand Duke Vladimir Alexandrovich" which allowed opening of trade Kyiv Candied Fruit in St. Petersburg. On Nevsky ave. next to cosmetic shop "A la Remonnee" and tobacco store "Kurbatov Brothers" there is a shop "Balabuha Kyiv Candied Fruit" which soon became known outside Russian Empire.
Kyiv Candied Fruit Recipy
To make Kyiv Candied Fruit" it is needed to take berries or cut fruit, pour sugar syrup and boil for 10 minutes then chill the mix about 6-8 hours, boil again for 10 minutes and again chill the mix. The proportions of syrup: 1 cup of sugar per 1 cup of water and the ratio of fruits and berries to syrup should be 1: 2. If the syrup is less the fruit will lose shape and the product will be of poor quality. A total of number of repeating the procedure - from 4 to 8. Then the pieces of fruit are thrown back on the sieve and the syrup is allowed to drain. This procedure will take about 2 hours. Finally it is necessary to pour the jam with fine crystalline sugar and wag then shake off excess sugar.
Dry the jam on the bars in the sun or in the oven at minimum heat with a slightly open door or in special dryers with temperature not exceed 40 Celsius. Now Kyiv Candied Fruit is ready and it can either be eaten immediately or packed in small glass jars to be stored in a cupboard.
Organizers of Kyiv Candied Fruit Mini Sculpture
Team of Project "Search"
Hause, Andriivskyi descent, 2D
Kiev, Ukraine
Information about Kiev Hotels, Hostels, Restaurants, Supermarkets on Kiev Map
| | | |
| --- | --- | --- |
| | - please, look at reviews of tourists about our tours | © 2011 - 2022 All rights reserved |