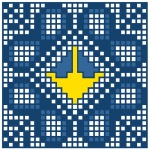 Special Ukraine Tours
Kyiv Tours | Tour Guide


Ukraine Tours with Tour Guide for 105 Percent Satisfaction!

Kyiv Tour Guide | +38 050 936 96 80 |
contact@ukraine-kiev-tour.com
Kiev Cake Mini Sculpture opened on 12.04.2018 in Kiev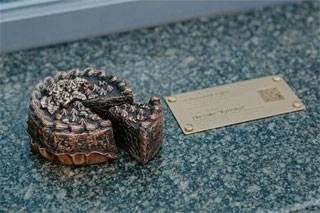 On 12th of April 2018 in Kiev opened Kiev Cake Mini Sculpture - one of the main sweet symbols of Kiev taking history from 1956 of USSR time.
Kiev Cake Mini Sculpture is a bronze cake from each cut a peace inviting tourists and guests of Kiev to taste unique and famous cake.
The installation of the mini sculpture is a part of the tourist project "Search" created by travel guide Yulia Bevzenko.
The sculptor of Kiev Cake Mini Sculpture is Darya Vovk.
This moment there are two other main symbols of Kiev that are presented in mini-sculptures around Kiev city center - Chicken Kiev and Kiev Chestnut.
Kiev Cake Historical Facts
Kiev Cake is one of the famous symbols of Kiev, recipes and technology of which was developed in 1956 at Kiev Confectionary Factory named after Karl Marx.
The history of this factory dates back to XIX century when in 1886 was founded "Steam Candy Factory of Valentin Efimov" which produced chocolate, sweets, caramel, marmalade, pastille, jam, gingerbread, tea biscuits and other sweeties from sugar and only in 1923 the factory was renamed in honor of Karl Marx.
In Soviet times round boxes of Kiev Cake with the image of chestnut leaves were well known in all 15 union republics of USSR.
The legend of the creation of Kiev Cake says that one day confectioners forgot to put a batch of egg whites intended for biscuit into the refrigerator. Next morning the head of the biscuit shop Konstantin Petrenko with help of 17-year-old assistant confectioner Nadezhda Chernogor tried to hide the mistake of colleagues at own risk and moved congealed protein cakes with cream, sprinkled with vanilla powder and decorated the surface with floral ornament. This is how the predecessor of Kiev Cake appeared which soon become a visiting card of Kiev.
In fact the confectioners worked purposefully to invent an unusual recipe and it was possible to find it in 1956 and patented the invention in 1973. Then State Committee for Affairs of Inventions and Discoveries gave author's certificate to Anna Kurilo and Galina Fastovets-Kalinovskaya - workers of Kiev Confectionary Factory named after Karl Marx.
In 1959 Confectionary Factory named after Karl Marx (now PJSC "Kiev Confectionery Factory Roshen") received from Exhibition of Achievements of National Economy the award "for the creation of the original product "Kiev Cake". The corresponding document was found in the archive and it is the oldest of surviving official documents about the cake.
In Soviet times this cake was produced in the original recipe only in Kiev - it was marked by so-called "Sign of Quality".
Confectionery developed and in some years few ingredients of the cake changed. In time of close friendship between USSR and India (after the visit to Soviet Union of Indian Prime Minister Jawaharlal Nehru) cashew nuts were bought in huge quantities and were actively used in confectionery.
It was cashew nuts originally used for Kiev Cake but after their rise in price Indian nuts were replaced with hazelnut. Egg cream was replaced with a heavier creamy-oily cream, instead of traditional candied fruits for decorating began to use jelly.
Nut-protein corns which make the cake so airy and crunchy to this day are produced according to the recipe of 1956 which is kept in strictest secrecy. Despite the industrial scale production of Kiev Cake take place according to the fixed schedule - during the day nut-protein corns are baked and at night till 7 am special brigades make out cakes with cream. It was a time when each confectioner had his own "cream handwriting" but today the pattern on the cake is unified.
Over time the design of Kiev Cake packaging was changed - instead of a pedestrian bridge across Dnieper river chestnut leaves appeared on a round box. The cord which tied the box replaced with plastic tape and personal mark of the master changed to the logo of PJSC "Kiev Confectionery Factory Roshen".
In USSR time Kiev Cake was the "currency" of its time. With the cake were thanked for the services, it helped to break from the very bottom and to open all needed doors. He was taken as a gift, presented on major holidays and sent to relatives to other cities of USSR.
In Soviet times in order to buy Kiev Cake locals had to have friends in grocery stores or confectioneries otherwise it would be practically impossible to get the cake for the holiday.
In Kiev tourists could buy a fresh Kiev Cake only in hotels at any time and without queues but the price was so high in that case.
During Soviet period Kiev Cake cost about three rubles that was not expensive compare to average income of USSR citizens of 120 Soviet Rubles.
Trains Kiev - Moscow is still called "Cake Carrier" because of the huge number of cakes were transported in this direction in 1990s. People tried to come to Kiev Railway Station early to negotiate with the conductor and put the cake in a cool place. And the most fortunate reserved a place for a cake in the refrigerator of the dining railway car.
Kiev Cake was favourite cake of USSR political leaders. For example it was one of the gifts from Ukrainian SSR to Leonid Brezhnev for his 70th birthday. Three-tier work of culinary art consisted of 70 corns and weighed over five kilograms. They say that Leonid Brezhnev liked Kiev Cake so much that asked his cooks to repeat the masterpiece.
Kiev Cake Recipe
The recipe is taken from Soviet culinary magazine of 1980s from chief engineer of Kiev Bread Factory №7 - Belenky and senior master of confectionery shop - Gorbacheva.
Kiev Cake consists of two protein-nut cakes-billets and cream. Let's agree that Kiev Cake will be prepared for 1 kg with a diameter of 24 cm.
Billets
Chop 10 eggs separating the protein from the yolk. Bowl with proteins should be left for a day to stay so that proteins then beat up better. The next day crush and fry 150 grams of cashew nuts (or hazelnuts) to a light brown color over medium heat. In enameled bowl for 25 minutes beat the settled protein until you get a lush white mass. Next fill in the fried nuts, sugar (thin glass) and two tablespoons of flour. Mix quickly and gently with your hands.
On two metal sheets spread the parchment paper, put the resulting mass by knife until get two pieces of cake with a diameter of approximately 24 cm and a thickness of 1 cm. Put the sheets in the oven and hold there for at least 2 hours at a temperature of about 100 degrees Celsius. Then cool down for 4-5 hours.
Cream (600 grams)
250 grams (or 8 tablespoons) of condensed milk and 120 grams of water bring to a low heat to a boil and cool. A glass of soft butter beat for 15 minutes and then for another 15 minutes continuously adding a cooled mixture of condensed milk with water.
The cream is ready. Separate approximately 100 grams, add 15 grams of cocoa powder (incomplete tablespoon), 10 grams of cognac or wine, the fourth of powdered sugar of vanillin and whip until a uniform brown mass is obtained.
Preparation of Kiev Cake
Carefully separate the paper from the cakes (you can moisten it with warm water for this purpose) and straighten the edges by the knife. Put on a cake and smear 150 grams of brown cream, cover with a second cake and put on the top of the cake remaining cream. Also grease the sides of the cake and sprinkle with crushed crumbs of fried cashew nuts (or hazelnuts). The surface should be shiny and smooth. To achieve this spread the cream with a knife heated in warm water.
It remains to decorate the cake. Roll the parchment bags, fill it with white cream and by scissors cut the tip of the bag (the lower is the cut - the thinner is the jet of cream). Pressing on the bag draw a cream pattern. You can decorate the cake with chocolate sweets, candied fruits and marmalade.
Ready Kiev Cake it is needed to put for 6-8 hours in a cold place and only then serve to the table. Cut Kiev Cake with a sharp knife heated in hot water.
Organizers of Kiev Cake Mini Sculpture
Team of Project "Search"
Roshen Chocolate Factory
Kiev, Ukraine
Information about Kiev Hotels, Hostels, Restaurants, Supermarkets on Kiev Map
| | | |
| --- | --- | --- |
| | - please, look at reviews of tourists about our tours | © 2011 - 2022 All rights reserved |