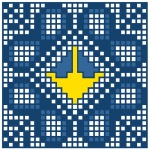 Special Ukraine Tours
Kyiv Tours | Tour Guide


Ukraine Tours with Tour Guide for 105 Percent Satisfaction!

Kyiv Tour Guide | +38 050 936 96 80 |
contact@ukraine-kiev-tour.com
Soledar Sights | Salt Mine Museum Tour | Speleosanatorium Salt Symphony
Individual and group tours to Soledar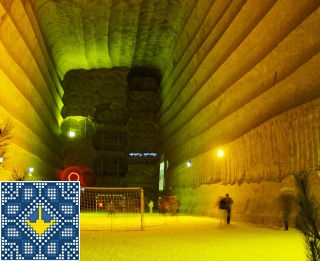 In Soledar, Ukraine is situated salt development on nine levels reaching depths of 327 meters. Soledar salt mines underground corridors are 300 kilometers and about 3000 cameras. In Podbryantsevskiy layer of salt mines there is Salt Mine Museum on 1,5-kilometer section at a depth of 287 meters.
Update! New Salt Mine Tour with light-sound show open in April 2021 in Soledar, Ukraine!
The most impressive sight of Salt Mine Museum is camera №41bis - its height of 24 meters, width 17 and length 135 meters. In this camera take place music concerts, Christmas performances, art exhibitions, conferences and sporting events. There is also a cozy cafe where tourists could enjoy a cup of coffee or tea.
The centerpiece of the exhibition on the museum is based on materials on the history of salt mining since the time of beginning of salt production - tools, household items of miners of late XIX - early XX centuries. Among the unique - documents of 1894 - 1895 years, salted and well-preserved.
During Salt Mine Museum Tour there is a unique opportunity:
- pass on the bottom of ancient oceans
- visit underground salt kingdom
- see the magic salt sculptures made by the hands of craftsmen
- play at salt football field and visit unique concert hall which impresses with its size and amazing acoustics
- learn a lot about the miraculous properties of salt
- get acquainted with the history of salt mining as well as to the technology used at the present times
- buy salt lamps and souvenirs made of salt
Podbryantsevskiy layer of salt mines
Podbryantsevskiy layer contains pure rock salt, white, watery, clear, slightly grayish, coarse-grained, homogenous. The chemical composition of salt of Podbryantsevskiy layer:
NaCl - from 90,33% to 99,29%
Ca(2+-) - from 0,18% to 1,40%
Ma(2+) - to 0,03%
SO4(2-) - from 0,37 to 3,91%
The history of salt mining in Soledar
In 1875 the department of Mountain Mining Institute sent professor Vladimir Erofeev to study the occurrence of rock salt in Bahmutskiy-Slavic basin. As a result of research Vladimir Erofeev suggested to create salt mine near Bryantsevka village where he thought the salt should be at a relatively small depth. In 1876 started the drilling of "Government Mine" and at a depth of about 79 meters was discovered rock salt.
In 1879 was founded the privately owned industrial company of salt mining. Production of salt was carried out in the mine with explosion - drilling out holes and inserting powder cartridges.
Total for the period from 1875 to 1882 was created six salt mines:
- "Bryantsevskaya Mine" - 1875
- "Dekonovskaya Solekamennaya Mine" - 1880
- "New Wieliczka Mine " - 1883
- "Dekonovsko-Pokrovskaya Mine" -1880
- "Harlamovsky Mine" - 1882
- "Peter the Great Mine" - 1881
In 1921 in Bakhmut salt district were nine salt mines. In 1929 strated construction of salt mine №3. In 1932 began to use cutting machines, electric drills, carried out a complete electrification of mine management. Thanks to mechanization and reconstruction of salt mines the share of Artyomsalt in salt production in the USSR was reached 42-45%.
In 1970 in salt mines started to use combines, self-propelled loader and wagon, 20-ton train MoAZ-641YU, self-selective crusher, implemented the automatic control system.
Now Artyomsalt Enterprise is the largest in Europe with modern equipment and working on advanced technologies of production, processing, packaging and shipment of salt. Currently production is mechanized with combine Ural-10KS working in conjunction with hopper-reloader BP-14A, BP-15, self-propelled carriage 5VS-15M and conveyors.
Artyomsalt salt is exported to over twenty countries around the world.
Speleosanatorium Salt Symphony
Healing properties of salt are multifaceted. Salt has a positive effect on the respiratory system, skin, helps prevent allergies.
Physicians have noted that miners of salt mines are less susceptible of lung diseases including asthma. This feature of the salt mines was used to organize the treatment and prevention of respiratory diseases.
Since 2007 patients with bronchopulmonary diseases and diseases of thyroid gland could come in Speleosanatorium Salt Symphony for the recovery and treatment.
Underground department of Speleosanatorium Salt Symphony is located in a salt mine №1-3 of Artyomsalt Enterprise at a depth of 288 meters. At the same time there can restore the health of 100 people between the ages of 6 and 60 years old.
The main method of healing is speleo therapy. Stay in the microclimate of the salt mine is one of the most effective, natural, drug-free way for rehabilitation. This is indicated by the numbers: speleo therapy effectiveness in adults is 70-85% and 85-95% among children.
Each patient has a strictly personal approach. Depending on the extent of the disease the doctor prescribes the number of hours of salt mine visiting. Altogether during the sessions of speleo therapy patient spends in a salt mine from 80 to 220 hours.
Medical indications for the stay of patients in Speleosanatorium Salt Symphony:
Patient age from 6 years to 60 years
Bronchial asthma (light and medium-heavy flow)
Asthmatic bronchitis
Obstructive bronchitis
Chronic pneumonia
Bronchitis "smoker"
Allergic rhinitis (rhinosinusopathy)
Food, drug allergy
Frequent and prolonged illness in children (weakened immune system)
Allergic dermatitis
Physical, psychological fatigue
The syndrome of "chronic fatigue"
Hypothyroidism (under compensation)
Thyroiditis (in remission)
Goiter Ι-ΙΙ degree (euthyroid)
You could visit Ukraine Soledar Sights | Salt Mine Museum Tour | Speleosanatorium Salt Symphony with Ukraine Tour East Ring
| | | |
| --- | --- | --- |
| | - please, look at reviews of tourists about our tours | © 2011 - 2022 All rights reserved |