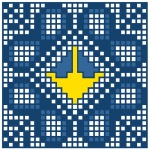 Special Ukraine Tours
Kyiv Tours | Tour Guide


Ukraine Tours with Tour Guide for 105 Percent Satisfaction!

Kyiv Tour Guide | +38 050 936 96 80 |
contact@ukraine-kiev-tour.com
Kiev Sights | Museum Aviation Training Hangar
Unique Tupolev ANT-7, helicopter Mil Mi-8, aircraft Let L-410 Turbolet and Antonov An-2
Individual and group tours to Kiev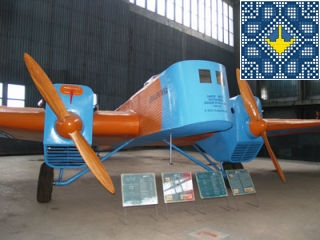 By decision of Ministry of Civil Aviation of Soviet Union (USSR) at National Aviation University in Kiev was built and put into operation in 1982 Aviation Training Hangar - the largest hangar of that type in Europe. Aviation Training Hangar was built on base of special, individual project in order to reproduce real airfield under roof for training of high qualified aviation professionals and pilots.
The building of Aviation Training Hangar has a unique design with stretched membrane of roof trusses (analogue of building of Sports Complex "Olympic" in Moscow, Russia) which allowed enough space to accommodate the real aircrafts and helicopters of Soviet aeronautical engineering. Aviation Training Hangar has area of 7200 square meters - 120 meters long and 60 meters width with height of 22,5 meters.
Building of Aviation Training Hangar started in 1973 and finished in 1980. Next it was needed two years more to bring all aircrafts and helicopters inside of the training hangar. The transfer of aircrafts and helicopters was done at night from Zhuliany Airport (now is Kyiv International Airport, IEV). Transportation of the technique was huge event which involved service of traffic police and specialists of road transportation.
One of the walls of Aviation Training Hangar is a huge metal door of 60-meter long through which aircrafts and helicopters were transported on their places in training hangar.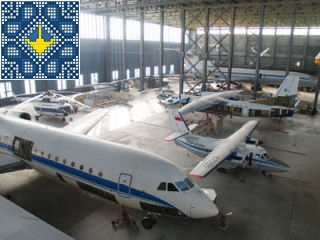 In Aviation Training Hangar there are wide range of aircrafts and helicopters of different design concepts and periods of development. There are aircrafts: An-24, Tu-154, Yak-42, Let L-410 Turbolet, Antonov An-2, helicopters Mil Mi-8, Mi-2, Mi-4, Kamov Ka-26.
All aircrafts and helicopters have cutouts that let to look at aircraft design, construction and main structural components and mechanisms.
Aircrafts and helicopters which are located in Aviation Training Hangar adapted to the learning process and have ground technological equipment which let to practice on repairs and maintenance works.
In Aviation Training Hangar there is an unique - one of the world first all-metal aircraft designed by Tupolev ANT-7 of 1929 year of production - the world's only surviving ANT-7. In Soviet times in Chukotka have found the remains of the crashed airplane ANT-7. On base of 410th aviation plant together with help of staff of National Aviation University it was restored ANT-7 from remains of founded aircraft and remains of two other copies of ANT-7. Near Tupolev ANT-7 there is a unique collection of aircraft engines of beginning of the last century: "RON" (1913), M-11 (1927) , M-17 (1936).
Museum Aviation Training Hangar Extended Tour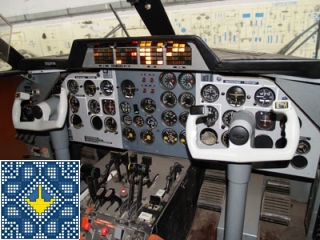 During tour of Museum Aviation Training Hangar all aircrafts and helicopters could be connected to a ground power supply. Tourists are able to run blades of propeller of aircraft Let L-410 Turbolet and main rotor of helicopter Mi-8, look at procedure of gear retraction, feel like a pilot in aircraft and helicopter cockpit.
List of aircrafts and helicopters for activities in Aviation Training Hangar:
- Tu-154 (cockpit, exit on the wing via emergency exit)
- Yak-42 (retraction of landing gears)
- An-24 (cockpit, retraction of landing gears)
- An-2 (cockpit)
- Mi-2 (cockpit)
- Mi-4 (cockpit)
- Mi-8 (cockpit, cold start)
- Ka-26 (cockpit)
- L-410 (cockpit, cold start)
On the basis of Aviation Training Hangar for the years of its operation have been educated and raised their professional level of about 250 000 aviation experts and pilots from Ukraine, former Soviet Union, Eastern Europe, Asia, Africa and Latin America.
Here is located TU-134A Flight Simulator interesting for flight enthusiasts.
In Aviation Training Hangar on base of real aircrafts has been established and functioning Aviation Training Center of Emergencies with appropriate training equipment. Training allows flight crew, cabin crew and ground staff conduct simulation of emergency cases and rescue team could train to save the passengers of the plane in any emergency conditions close to real including the release of hostages.
You could visit Ukraine Kiev Sights | Museum Aviation Training Hangar | Tupolev ANT-7, helicopter Mil Mi-8, aircraft Let L-410 Turbolet and Antonov An-2 with Ukraine Grand Aviation Tour
Kiev Museum Aviation Training Hangar | Reviews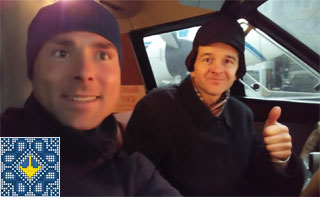 Yet another business related trip to Kiev. Inspired by the good experiences from our last time, we again asked Pavel for help and are happy to say, this was a good choice!

Aviation Enthusiasts will like this tour:

First we took a tour to the State Aviation Museum adjacent to the City Airport (IEV, UKKK). This is very interesting with some very unique aircraft on display, one of them is the Naval version of the reconnaisance aircraft NATO named Bear. Realy a great Museum and Pavel was very eager to tell the stories behind the many airplanes history.

In the afternoon we made a visit to the University, where a hangar full of airplanes is situated. This little known fact is quite interesting. The airplanes are mainly intended for the university students to have hands on training, but Pavel managed for us to sit in the Cockpits, operate the controls and even motor the starter of a Mi8 Helicopter. Everything is functional and kept in good condition. For an aviation enthusiast like me, this was a very interesting and enjoyable trip to Kiev.

Once again - Thank you Pavel!.
Pilot Christian, Germany
Ukraine Grand Aviation Tour | Top Airplanes and Helicopters | Video
| | | |
| --- | --- | --- |
| | - please, look at reviews of tourists about our tours | © 2011 - 2022 All rights reserved |