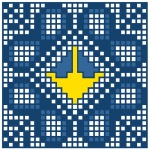 Special Ukraine Tours
Kyiv Tours | Tour Guide


Ukraine Tours with Tour Guide for 105 Percent Satisfaction!

Kyiv Tour Guide | +38 050 936 96 80 |
contact@ukraine-kiev-tour.com
Ukraine Chernihiv Sights | Holy Catherine Church
Individual and group tours to Chernihiv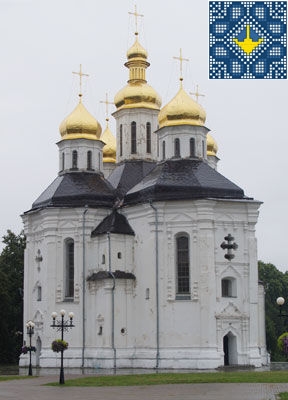 Holy Catherine Church - the church of Cossack time built in honor of the heroism of Cossacks of Chernihiv Regiment under the command of Yakov Lizogub during the assault on Turkish Fortress of Azov. Holy Catherine Church was consecrated in 1715.
Holy Catherine Church - an architectural monument in Ukrainian Baroque style. During its history the church has not changed. The first phase of the restoration was carried out in 1975-1980 and the last in 2004-2005.
The last worship in Holy Catherine Church was made in 1933 and after that time the church was closed. In 1962 Holy Catherine Church became a part of National Architectural and Historical Reserve "Ancient Chernihiv". Until July 2006 in the church was Museum of Folk and Decorative Art of Chernihiv.
History of assault on the Turkish Fortress of Azov
In 1636 Don Cossacks decided to capture Turkish Fortress of Azov that barred the access for them to Sea of Azov. Trading town at the estuary of Don river belonged to Genoese since XIV century. In 1461 Azov was conquered by Turks who turned it into a well-fortified fortress. Turkish Fortress of Azov was surrounded by stone walls, reinforced by eleven towers, moat and rampart.
Feeling the need for military equipment Сossacks sent representatives to Moscow for help but did not disclose their plans. Moscow government used Cossacks to protect the southern border and gave to them money, food and ammunition. Tsar Mikhail Romanov unaware of the intentions of Cossacks sent to Azov carriages with money and equipment with Moskow ambassador who was supposed to meet Turkish envoy Phoma Kantakozin. However Cossacks were detained Phoma Kantakozin and then accused him of trying to warn the garrison of Turkish Fortress of Azov of the impending assault and executed him.
In April 1637 Don Cossacks army supported by Zaporizhzhya Cossacks with total numer of warrior of four thousand under the guidance of Ataman Mikhail Tatarinov came to Turkish Fortress of Azov by several parties and took the fortress in the siege. Five thousand garrison provided a year supply of ammunition and food almost entirely composed of Janissaries. Turks had 200 guns, Cossacks - only 90 captured guns from previous battles. Moscow government has sent gunpowder and cannon balls but did not give cannons. First attack of the fortress have been unsuccessful then under the leadership of German Johann Ardanov was made the tunnel in which laid the barrels of gunpowder.
On 18th of June 1637 a terrible explosion at wall of Turkish Fortress of Azov created a large gap in which rushed Cossacks led by Ataman Tatarinov. Janissaries opened furious fire on the attackers poured boiling water and molten tin but Cossacks were able to break into the fortress. Fierce battle went to the evening. Janissaries found refuge in towers, some of them tried to leave to the steppe but were overtaken and killed by Cossacks. On the second day after a desperate resistance the last defenders of the fortress surrendered. The prisoners were not taken - all garrison was killed. Cossacks were released almost two thousand prisoners who were in Turkish Fortress of Azov and captured great booty.
Next it was sent the delegation to Moskow. Cossacks reported their victories and asked Tsar Mikhail Romanov forgive them for the death of Turkish ambassador. Tsar Mikhail Romanov rebuked Cossacks of arbitrariness but sent money and cloth.
Despite all the benefits from capture of Azov by Cossacks Tsar Mikhail Romanov has just signed a peace with Poland and could not afford another war with Turkey. So Tsar Mikhail Romanov sent the letter to Turkish Sultan Murad indicated that Cossacks killed the ambassador and took Azov by own decision and Moskow power is not related to those events.
Don Cossacks announced Azov as a free Christian city open for trade. Moscow government interested in the fact that Azov Fortress remained in hands of Cossacks and increased the size of tsar salary. Both Tsar Mikhail Romanov and Cossacks understood that Sultan Murad will try to regain Azov but as long as Turkey which fought a war with Persia - does not have the strength for it. Cossacks were able to hold in their hands the fortress until the famous defense of Azov 1637-1642 called "Azov Sitting".
Defense of Azov "Azov Sitting"
In May 1641 Turkish army led by Hussein-Delhi Pasha came to Azov with goal to drive out Cossacks. Turkish forces were enormous - more than two hundred thousand people with hundreds of siege weapons. Turks was supported by Crimean Khan with his army. Cossacks had only fifteen thousand people. Cossacks with desperate courage repel the attacks of Turks. Turks suffered losses and requested assistance from Sultan Murad.
After receiving of reinforcements Hussein-Delhi Pasha decided to create the earth shaft on which was installed heavy artillery. Turks began to shoot in the city of Azov day and night. This shooting lasted 16 days. During these 16 days Cossacks dug two underground tunnels and detonated them destroying thousands of Turkish soldiers and cannons. Next Cossacks dug 28 underground tunnels under Turkish Military Camp and blasted thousands enemies. From Turkish side German engineers dug 17 underground tunnels to Azov Fortress but Cossacks found and destroyed them. Soon Azov Fortress of continuous shooting was demolished to the ground.
Cossacks were buried in the ground, made out attacks and saps destroying enemies. The siege dragged on. Cossacks got reinforcements, ammunition and provisions from Don Sich. The remaining units of Cossacks settled on grassroots towns and watched the movements of the enemy. The stench of rotting corpses from Turks emerged infectious diseases. Began to feel the lack of shells and provisions. In Turkish army began to appear discontent and murmuring. Hussein-Delhi Pasha did not know what to do and asked Sultan Murad to postpone the conquest of Azov to the next spring but was told: "Pasha! Take Azov or give your head".
So began a desperate brutal attacks of Turks which continued without interruption during two weeks. The Cossacks did not concede, made desperate attacks, led up new saps and blew Turkish fortifications. In engineering art Cossack had better experts than European experts of Turkish army. About half of them have already fallen death and the rest were almost all reinjury. But Don Cossacks were chosen to die but do not give up. Turks threw them letters on arrows with a promise to give each of them thousand thalers if they leave Azov but Cossacks did not agree and continued to attack.
On the night of September 26, 1641 Cossacks have cleared themselves by fasting and prayer, said goodbye to each other and decided to make a last desperate sortie - to win or die all to one person. At three o'clock in the morning they went to the enemy camp but to their surprise did not find Turkish army. All showed a running of the enemy so Don Cossacks hastily formed groups of worrors and set off in pursuit. Turks did not expect this maneuver and were destroyed thousands of them. The defeat of Turks was complete.
Turks left Azov in panic fear and lost from 50 to 70 thousand corpses. Wounded Crimean Khan Bahadır Giray died on the road to Bakhchysarai. Kafa Pasha Yusuf was killed. Hussein-Delhi Pasha died of shame on the way to Istanbul. Few of surviving military leaders were brought to justice of "Turkish court-martial".
Soon Cossacks told Tsar Mikhail Romanov of their victory and asked for help. On base of inspection Azov Fortress was so much destroyed that it was impossible to fix it soon. Tsar Mikhail Romanov on April 30, 1642 ordered to Cossacks to leave Azov. They destroyed Azov Fortress to the ground, left no stone unturned and came out of it.
You could visit Ukraine Chernihiv Sights | Holy Catherine Church with Ukraine Tour East Ring
| | | |
| --- | --- | --- |
| | - please, look at reviews of tourists about our tours | © 2011 - 2022 All rights reserved |