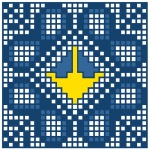 Special Ukraine Tours
Kyiv Tours | Tour Guide


Ukraine Tours with Tour Guide for 105 Percent Satisfaction!

Kyiv Tour Guide | +38 050 936 96 80 |
contact@ukraine-kiev-tour.com
Kiev Sights | Railway Transport Museum | Locomotives and Wagons
Individual and group children tours in Kiev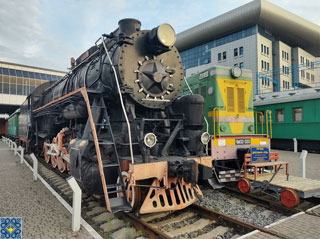 Kiev Railway Transport Museum is an open-air exposition of historical locomotives, wagons-salons for high-ranking passengers, freight cars and tanks, railway equipment of special purpose.
On platform there are steam locomotive SO17-4371 "Sergo Ordzhonikidze" (1949), steam locomotive L-3191 (1951), steam locomotive Er 773-59 (1952), diesel locomotive TE3-2068 (1957), diesel locomotive CHME2-333 (1963) and electric locomotive CHS4-072 (1968).
For children especially interesting to visit the control cabin of steam locomotive and look into the furnace where they can see - the masonry of refractory bricks and blocks.
Next part of exposition are historical passenger cars-salons for senior officials of Imperial Russia and Soviet Union.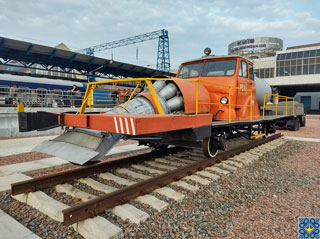 Wagon-Salon №70139 (1910)
Wagon-salon of special purpose was built in 1910 in the factory Magyar Waggones Gepgyar "Raba" in Hungary for Chairman of Council of Ministers of Imperial Russia - Pyotr Stolypin. This is the wagon-salon he came to fateful 1911 in Kiev where he died from the killer's hands. Next wagon-salon also was used for famous passengers. In First World War it was transferred to a train of Commander of North-WesternFront of general Alexey Brusilov.
The wagon-salon was used in "Brusilov Breakthrough" (Lutsk Breakthrough) in the offensive of North-Western Front against Austro-Hungarian and German forces during First World War. Then it carried ministers of Provisional Government. During Civil War the wagon-salon was used for transportation of Leon Trotsky, Mikhail Kalinin, Joseph Stalin. In 1920 the wagon-salon was renovated and reinforced with armor belt and in 1930-1940 was used in trains of Soviet government. After completion of Great Patriotic War at the request of Chief of North-Western Railways Pyotr Krivonos the wagon-salon was handed over to management of North-Western Railways.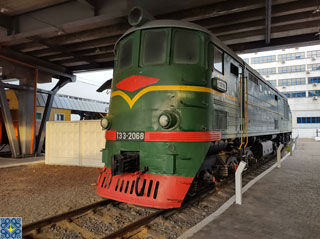 Wagon-Salon №70303 (1912)
Wagon-salon of the first category was built in 1912 in Verhnevolzhskiy Plant of Railway Materials in Tver for transportation of higher railway officials of Ukraine. In December 1918 at Fastiv station on the way to Kiev there was a stop of the train with this wagon-salon. In this wagon political leaders signed a preliminary text of union agreement of Ukrainian People's Republic and West-Ukrainian People's Republic. Today this important moment of history of Ukraine marked by wagon-monument located in Fastiv station.
Wagon-Salon №75112 (1939)
Wagon-salon was built in 1939 at Factory named Egorov in Leningrad. It was intended for carriage of government and party leaders. This wagon-salon was used by Kliment Voroshilov - Soviet military chief, statesman and political leader, one of the first Marshals of Soviet Union. The wagon-salon housed headquarter of the marshal in the first weeks of World War II of 1941 during heroic defense near Mogilev. In post-war years the wagon-salon was used for trips of the marshal for vacations with family including Crimea. Today wagon-salon is used by different television companies to shoot movies about Great Patriotic War.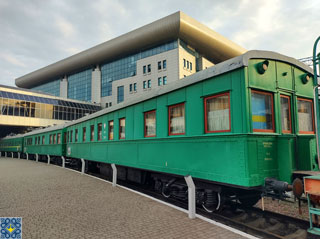 Wagon-Salon №70006 (1957)
Wagon-salon was built in 1957 at Factory named Egorov in Leningrad for transportation of Ukrainian party leaders. This wagon-salon was used by the first secretary of Party of Ukraine Vladimir Scherbitsky and other high officials and leaders of the party. In the wagon-salon Vladimir Scherbitsky went on vacation in Crimea and for business trips in Moscow at the party congresses. Then wagon-salon was used by higher government officials to conduct business meetings and trips to the regions.
Another sights of expositions are freight wagons and special vehicles of railway transport include Track Cleaning Machine of Balashenko System "ZUB" №90 (1963), track vehicle DMS-245 (1965), two-axle platform (1930), tank-wagon (1935) and covered wagon (1932).
| | | |
| --- | --- | --- |
| | - please, look at reviews of tourists about our tours | © 2011 - 2022 All rights reserved |