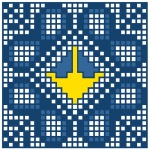 Special Ukraine Tours
Kyiv Tours | Tour Guide


Ukraine Tours with Tour Guide for 105 Percent Satisfaction!

Kyiv Tour Guide | +38 050 936 96 80 |
contact@ukraine-kiev-tour.com
European Diving Championship 2017 in Kiev | 12-18.06.2017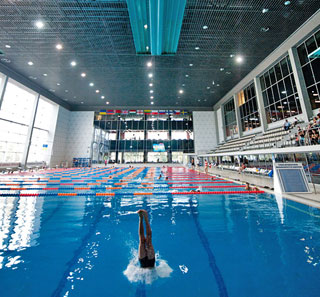 On 12th - 18th of June 2017 in Kiev will take place European Diving Championship 2017 with support of European swimming league - Ligue Européenne de Natation (LEN).
European Diving Championship 2017 will be held in Palace of Water Sports "Liko-Arena" - the main base for training of Ukraine National Sport Diving Olympic Team and youth school of sport divers "Triumph".
In Palace of Water Sports "Liko-Arena" there are 450 seats for spectators and it is fully compliant with standards of European Federation.
Kiev invites to visit this interesting sport international event during summer time in Ukraine.
European Diving Championship 2017 Program and Results
12.06.2017, Monday
16:30 - Official Opening of European Diving Championship 2017 (by invitation)
17:00 - Mixed - Team Event - Final - Results
1st Place - France, Laura Marino and Matthieu Rosset, 372.40
2nd Place - Ukraine, Viktoria Kesar and Oleksandr Gorshkovozov, 366.55
3rd Place - Russia, Nadezhda Bazhina and Viktor Minibaev, 366.10

13.06.2017, Tuesday
10:00 - Women - Platform - Preliminary - Results
1st Place - Russia, Iuliia Timoshinina, 318.35
2nd Place - Ukraine, Sofia Lyskun, 305.15
3rd Place - Germany, Maria Kurjo, 296.50
16:30 - Mixed - 3m Synchro Mixed - Final - Results
1st Place - Italy, Elena Bertocchi and Maicol Verzotto, 287.88
2nd Place - Ukraine, Viktoria Kesar and Stanislav Oliferchyk, 282.96
3rd Place - Germany, Tina Punzel and Lou Massenberg, 281.40
18:00 - Women - Platform - Final - Results
1st Place - United Kingdom, Lois Toulson, 330.75
2nd Place - Russia, Anna Chuinyshena, 326.90
3rd Place - Russia, Iuliia Timoshinina, 313.30

14.06.2017, Wednesday
10:00 - Men - 1m Springboard - Preliminary - Results
1st Place - France, Matthieu Rosset, 414.45
2nd Place - Ukraine, Illya Kvasha, 403.25
3rd Place - Germany, Patrick Hausding, 397.80
16:30 - Women - Synchronised Platform - Final - Results
1st Place - UK, Ruby Bower and Phoebe Banks, 299.19
2nd Place - Russia, Iuliia Timoshinina and Valeriia Belova, 297.00
3rd Place - Ukraine, Valeriia Liulko and Sofiia Lyskun, 288.96
18:00 - Men - 1m Springboard - Final - Results
1st Place - Ukraine, Illya Kvasha, 431.75
2nd Place - Germany, Patrick Hausding, 419.80
3rd Place - France, Matthieu Rosset, 412.95

15.06.2017, Thursday
10:00 - Women - 3m Springboard - Preliminary - Results
1st Place - Russia, Kristina Ilinykh, 302.00
2nd Place - Netherlands, Inge Jansen, 295.95
3rd Place - Italy, Elena Bertocchi, 286.30
16:30 - Men - Synchronised Platform - Final - Results
1st Place - Ukraine, Maksym Dolgov and Oleksandr Gorshkovozov, 431.28
2nd Place - Russia, Nikita Shleikher and Aleksandr Belevtsev, 406.56
3rd Place - UK, Noah Williams and Matthew Dixon, 388.05
18:00 - Women - 3m Springboard - Final - Results
1st Place - Ukraine, Anna Pismenska, 303.30
2nd Place - Switzerland, Michelle Heimberg, 293.25
3rd Place - Ukraine, Anastasiia Nedobiga, 291.65

16.06.2017, Friday
10:00 - Men - 3m Springboard - Preliminary
1st Place - Russia, Ilya Zakharov, 432.35
2nd Place - Ukraine, Illya Kvasha, 431.90
3rd Place - Germany, Stephan Feck, 402.45
16:30 - Mixed - Platform Synchro Mixed - Final
1st Place - UK, Lois Toulson and Matthew Lee, 308.16
2nd Place - Russia, Iuliia Timoshinina and Viktor Minibaev, 300.30
3rd Place - Italy, Noemi Batki and Maicol Verzotto, 299.58
18:00 - Men - 3m Springboard - Final
1st Place - Russia, Ilia Zakharov, 525.10
2nd Place - Ukraine, Illya Kvasha, 484.30
3rd Place - Ukraine, Oleg Kolodiy, 470.30

17.06.2017, Saturday
10:00 - Women - 1m Springboard - Preliminary
1st Place - Italy, Elena Bertocchi, 261.80
2nd Place - Russia, Nadezhda Bazhina, 255.30
3rd Place - Ukraine, Anna Pysmenska, 250.45
16:30 - Men - Synchronised 3m - Final
1st Place - Russia, Ilia Zakharov and Evgenii Kuzhnetsov, 427.71
2nd Place - Ukraine, Illya Kvasha and Oleg Kolodiy, 426.96
3rd Place - UK, Frederick Woodward and James Heatly, 395.61
18:00 - Women - 1m Springboard - Final
1st Place - Italy, Elena Bertocchi, 282.80
2nd Place - Russia, Nadezhda Bazhina, 277.35
3rd Place - Germany, Louisa Stawczynski, 271.80

18.06.2017, Sunday
10:00 - Men - Platform - Preliminary
1st Place - France, Benjamin Auffret, 494.60
2nd Place - Russia, Viktor Minibaev, 435.60
3rd Place - Russia, Roman Izmailov, 423.60
16:30 - Women - Synchronised 3m - Final
1st Place - Russia, Nadezhda Bazhina and Kristina Ilinykh, 304.80
2nd Place - Germany, Tina Punzel and Friederike Freyer, 284.10
3rd Place - The Netherlands, Inge Jansen and Daphne Wils, 283.80
18:00 - Men - Platform - Final
1st Place - France, Benjamin Auffret, 511.75
2nd Place - Russia, Viktor Minibaev, 493.25
3rd Place - UK, Matthew Lee, 485.55
Final Results by Total Rank
First Place - Russia
Second Place - Ukraine
Third Place - UK
Organizers of European Diving Championship 2017
Ligue Européenne de Natation
Palace of Water Sports "Liko-Arena"
Kiev, Ukraine
European Diving Championship 2017 Pictures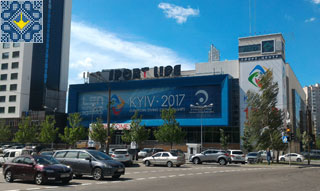 Palace of Water Sports "Liko-Arena" | Outside view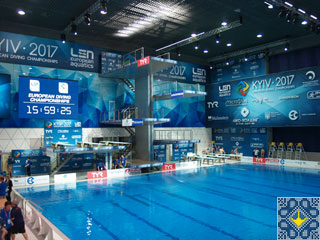 European Diving Championship 2017 | Swimming Pool and Diving Platforms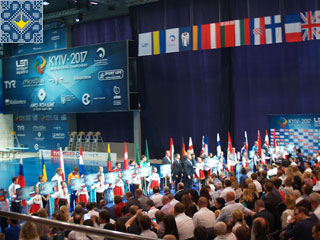 European Diving Championship 2017 | Opening Ceremony
Information about Kiev Hotels, Hostels, Restaurants, Supermarkets on Kiev Map
| | | |
| --- | --- | --- |
| | - please, look at reviews of tourists about our tours | © 2011 - 2022 All rights reserved |